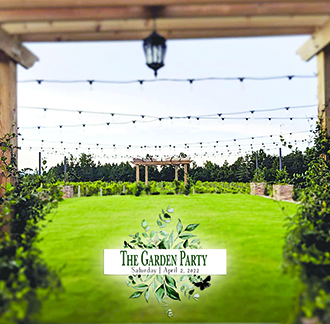 The spring days are now upon us, and you may find yourself wanting to celebrate and enjoy the warm spring air. The HealthCare Foundation of Cleveland County (HCFCC) has a way you can do just that, all while supporting worthwhile work in the local community.
The HCFCC will host a Garden Party on Saturday, April 2, 2022, from 6:30 - 9:30 p.m. The event will take place at Spinning Leaf at The Vineyard, located at 1414 Metcalf Road in Shelby.
"Now that spring is here, a garden party theme was a natural fit for a hybrid indoor/outdoor social gathering to allow guests to mix and mingle while enjoying good food, wines, live music, and a silent auction in a comfortable setting," says Dick Baker, HCFCC executive director.
Baker says the Foundation has an amazing evening planned.
"We will have fabulous food by Shelby's own Jeanette Sun, featuring culinary students from Cleveland Community College," says Baker. "Attendees will also enjoy select wines, crafted spirits, entertainment by guitarist David Parker and the Gardner-Webb University Sko' Dawgs String Quartet!"
A silent auction will be available both to attendees and online. All silent auction items will be on display at the evening event. Online bidding on the items will begin March 26, 2022.
"Ticket prices start at just $35, which includes a complimentary glass of wine or bubbly, courtesy of Veronet Vineyards & Winery in Kings Mountain," says Baker. Tickets can be purchased online at EventBrite.com by searching for "The Garden Party at the Vineyard."
This is the first time the HCFCC has hosted an indoor/outdoor event. It comes after having to cancel the organization's signature formal gala for the past two years.
"Due to the pandemic and being a healthcare organization, we reluctantly cancelled our gala in 2020 and 2021," says Baker. "Like many local nonprofits, fundraising events have been challenging. Many people have asked about our gala plans, and we hope to return to hosting our black-tie event again in 2023."
Baker says that with the decline in Covid cases and an easing of restrictions, the HCFCC wanted to offer something new and different in a more open environment for its supporters and the community.
"We hope that community members will make plans to join us as we celebrate health and wellness in our community," says Baker. "Every dollar raised stays right here in Cleveland County."
Festive Spring attire is encouraged but not required at the party.
For more information, visit the HCFCC web page at www.healthcarefoundationcc.org.