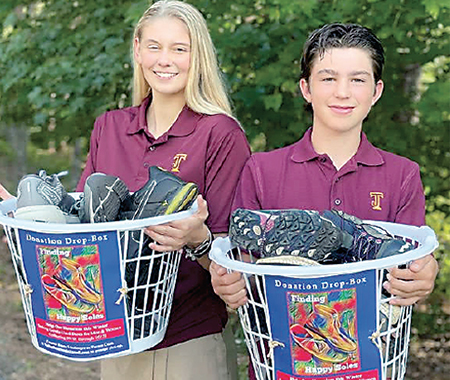 Emma Lineberger and Turner Cook, two Casar teens who attend Thomas Jefferson Classical Academy, are taking action to help the homeless this winter.
The two have founded a campaign, which they are calling "Finding Happy Soles," to collect gently-used shoes for men and women who are transitioning out of homelessness. Trailhead Emergency Shelter, a homeless shelter slated to open in Shelby later this fall, will be one of their first beneficiaries.
"We decided to start this program because we believe that a new pair of shoes, especially for homeless men and women, can go a long way towards renewing someone's spirit and can, literally, help someone get back on their feet,"said Lineberger.
Lineberger and Cook, who have known each other since their preschool days and have both been involved in their respective Girl Scout and Boy Scout organizations since fi rst grade, said that civic-minded leadership is something that Scouting instilled in them from an early age. They pledge that their efforts will not stop with just this fall's collection. "Our plan is to collect the shoes, clean them and put in new shoelaces, if needed. We've even contacted Dr. Scholl's to see if they would be willing to contribute insoles to make them extra nice," said Cook.
This collection effort, which began earlier this month, runs now until the start of winter. Lineberger said, "We hope to collect as many as 500 pairs of shoes, enough to make a big impact and fulfi ll the basic needs of warmth and comfort for those who are far less fortunate. Long-term, we would like to seek grant funding to create a type of voucher-system for homeless men and women to be able to exchange for a brand-new pair of shoes."
The students are getting reallife experience with this campaign. They created their own brightly-colored Finding Happy Soles logo using technology on their cell phones, put together a slide-show style proposal, designed flyers and developed a system for tracking inventory. The two have also visited Masonic lodges and churches to promote their cause and have written funding and donation requests to businesses, both local and national.
Donation drop boxes can be found at the middle and high school campuses at Thomas Jefferson Classical Academy, the Dover Family YMCA, Central United Methodist Church in Shelby, Girl Scout Troop 2293 at Zion Baptist Church and Boy Scout Troop 100 at Shelby Presbyterian Church.
Whether you would like to display a donation box at your organization, or are just cleaning out your closet, consider reaching out to Finding Happy Soles. They will be happy to pick up your donation and can be reached fi ndinghappysoles@ gmail.com.