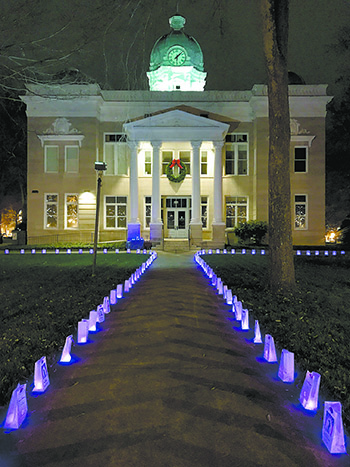 For most people, Christmas and the holidays bring happy and busy times full of fun and joy. But for those who have lost a loved one recently, this time can carry a wide mixture of emotions. Each year Hospice Cleveland County (HCC) provides a way for family members to remember their loved ones with a special luminary display at the Shelby court square. This year's "Lighting the Way" display will take place on Friday,
Dec. 21, 2018. (Please note this is a new date - due to the weather forecast.)
"The luminaries will be displayed on the Marion Street side of the court square starting at 6 p.m. on December 21, 2018 and will remain until 9 p.m.," says Sharts. "We ask that folks look for the Hospice tent to receive a program listing all of the luminaries. We will also be selling hot chocolate, ornaments, Christmas cards and other holiday treats."
"The holidays bring memories of times past and anticipation of holidays yet to come," says Pam Sharts, director of marketing and public relations for HCC. "Memories are our way to hold on to the people we love, and the holiday season is a beautiful time to reflect on the happy times we shared with those so dear to our heart."
For each contribution of $10, a luminary will be placed on the court square. Each luminary will be labeled with the name of the individual to be remembered. There is a limit of one name per luminary. Forms and ordering information are available by calling 704-487-4677 or online at www.hospicecares.cc.
In addition to the "Lighting the Way" celebration, this year HCC is also sponsoring a "Holiday Prize Extravaganza" featuring a raffle for a number of prizes, including a 14-carat diamond watch valued at more than $4,000. Other drawings will be held for a Yeti cooler, a fire pit, a luggage set, a 43-inch smart TV, a Kindle, a WORX circular saw, a dinner and wine tasting for 10 people, a hot air balloon ride, an overnight Biltmore escape and numerous gift cards.
Tickets for the raffle are $20 and are available at the Hospice Administration Building, Testa Family Hospice Store, the Hospice Store, Computer Connections or online at www.hospicecares.cc. "Proceeds of the raffle will go to support the general operations of Hospice Cleveland County," says Sharts. "One $20 raffle ticket donation can pay for medications for a Hospice patient for two days." A reception will be held on Friday, December 14th, 2018 to view the raffle prizes and raffle tickets will be available for purchase with the drawing beginning at 7pm.
"We look forward to seeing everyone for this special celebration and fundraiser for Hospice of Cleveland County," says Sharts.
For more information about any of the events or the raffle, call 704-487-4677 or visit www.hospicecares.cc.
By April Hoyle Shauf, Special to Community First Media