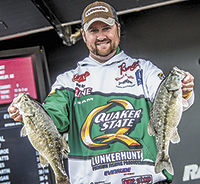 The Forrest Wood Cup presented by Walmart, the world championship of professional bass fishing, will return to Lake Ouachita and the Hot Springs, Arkansas, area August 20-23 to crown bass fishing's top angler of 2015. Hosted by Visit Hot Springs and the Arkansas Department of Parks and Tourism, the tournament will feature 50 of the world's best bass-fishing professionals and co-anglers casting for the sport's biggest awards - $500,000 cash in the pro division and $50,000 cash in the co-angler division.
Local anglers Bryan Thrift and Quaker State pro Matt Arey, both of Shelby, North Carolina, will be two of the 50 anglers competing in the Forrest Wood Cup championship. (FLW)
Local anglers Bryan Thrift and Quaker State pro Matt Arey, both of Shelby, North Carolina, will be two of the 50 anglers competing in the championship tournament - Thrift's ninth and Arey's fifth Forrest Wood Cup appearance. Thrift punched his ticket to the event by finishing the year ranked No. 3 out of the 154 anglers who compete on the Walmart FLW Tour, while Arey qualified at No. 33.
Among the 50 competitors at the Forrest Wood Cup will be Scott Martin of Clewiston, Florida, the reigning FLW Tour Angler of the Year who claimed his Forrest Wood Cup victory on Lake Ouachita when FLW last visited in 2011.
"This is going to be a very exciting tournament," said Martin. "The Forrest Wood Cup is the fishing tournament that nobody forgets. I've had five other major victories in my career, and some people may remember them, but no one forgets the Forrest Wood Cup."
Martin said that multiple different patterns would be in play amongst competitors and that he expected the fishing to be even better than when he won in 2011.
"There are so many ways to catch fish this time of year on Lake Ouachita," Martin continued. "Every time we visit, it seems like the field splits pretty evenly - half of the anglers fish shallow while the other half opts to fish deep. You can really fish to your strengths. One factor that may be different this year, though, is the grass. There is more grass on Ouachita than we have seen in the past, and that could really add another dimension to this event. We're also visiting the lake a little later in the year this time, so it's hard to say exactly what pattern will be dominant."
Martin said that he expects anglers will need to catch at least 13 pounds a day in order to make the top-20 cut and fish the weekend, and he expects the winner to weigh in a four-day total right around 60 to 61 pounds.
"This tournament will change somebody's life," Martin went on to say. "All of the press and the prestige that comes from winning this event - it's a game changer. This event is something that you will never forget."
Anglers will take off from the Brady Mountain Resort and Marina in Royal, Arkansas, at 7 a.m. each morning. Each day weigh-ins will be held at the Bank of the Ozarks Arena in Hot Springs, Arkansas, beginning at 5 p.m. daily.
Fishing fans that can't make the trek to Arkansas can still follow along with all of the tournament action at FLWFishing.com. Live on-the-water tweets, updates, photos and videos will be posted throughout the four days of competition as well as a live streaming video feed of the weigh-in held at 5 p.m. each day.
Coverage of the Forrest Wood Cup will be broadcast in high-definition (HD) on NBC Sports Network (NBCSN) when "FLW" airs December 6 from 7 p.m.-8 p.m. ET. The Emmy-nominated "FLW" television show airs on NBCSN, the Pursuit Channel and the World Fishing Network and is broadcast to more than 564 million households worldwide, making it the most widely distributed weekly outdoors-sports television show in the world.
For a full schedule of events, complete details and updated information visit FLWFishing.com. For regular updates, photos, tournament news and more, follow us on Facebook at Facebook.com/FLWFishing and on Twitter at Twitter.com/FLWFishing.