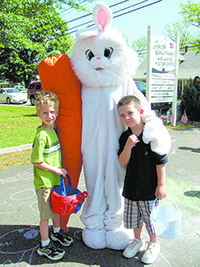 Ready, set, roll! Kids nine and younger can extend their Easter joy a day longer this year by participating in the Presidential Culinary Museum's (PCM) annual Easter Egg Roll on the Monday after Easter, April 2, 2018. The PCM is located inside of the Inn of the Patriots, 301 Cleveland Avenue, Grover.
Synchronized with the White House Annual Easter Egg Roll, held each year on the White House front lawn, the PCM event will feature contests in egg-rolling, hula-hooping, best dress, drawing and most-decorated spoon. A "Largest Spoon Contest" along with music, prayers, healthy snacks and free prizes will also be offered. Participants are encouraged to bring their own spoon for the egg-roll to join in the fun.
"Some of the eggs in the Easter egg hunt will contain hundred dollar bills, and others will include candy," says William Wendling, Jr., PCM publicist. "This year we also have the 2018 White House eggs signed by Donald and Melania Trump. After the egg roll kids will be able to meet Peter Rabbit and will receive a free Easter photo taken in our 300-pound pink chair."
The PCM has been hosting the Easter Egg Roll for nine years, and kids and families alike seem to enjoy the event, with a typical annual attendance of around 150.
First Lady Dolly Madison first began the tradition of Easter egg rolling in Washington, D.C., when local children joined her for an egg roll at the Capitol in 1814. Unfortunately the kids' fun resulted in damage to the Capitol lawn, and so in 1876 Congress passed the Turf Protection Law, banning the use of the Capitol lawn as a playground. In 1877, bad weather prevented any sort of egg roll event, but in 1878 children stood outside the gates of the White House until President Rutherford B. Hayes invited them onto the grounds to continue the egg roll tradition. The White House Easter Egg Roll has taken place every year since then, with hiatuses during World War I, World War II and during the White House renovations from 1946-1952. President Dwight D. Eisenhower reinstated the tradition in 1953.
The PCM roll is held simultaneously with the White House Egg Roll and features the live news broadcast from the Washington event each year.
For more information about the egg roll event or about the PCM, search for "Inn of the Patriots" on Facebook or visit the web site at
www.theinnofthepatriots.com.
By April Hoyle Shauf
Special to Community First Media