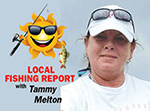 I'm glad everyone enjoys the water during the summer time, but I'll be glad when it gets cooler and the boat traffic calms down at the lakes.
I'm surprised there haven't been more accidents on the lakes. Cleveland County Bass Club fished our August tournament at Lake Wylie, Saturday the 27th.
Here are results.
• 1st place - Derek Barkley - 3 fish, 4.58 pounds.
• 2nd place - Roger Beaver - 3 fish, 4.50 pounds.
• 3rd place - Jamie Canipe - 2 fish, 3.76 pounds.
• 4th place - Robby Rush - 1 fish, 1.46 pounds.
• 5th place - Tammy Willis Melton - 1 fish, 1.16 pounds.
The high school fishing league for our area, Cleveland County Bass Anglers, will fish their 1st tournament of the 22-23 year at High Rock Lake, October 1st.
Lets wish them good luck!
If you have any fishing news to share, please email me, this article is for any fishing results. Please send information to me at
carterchevtammy@yahoo.com.