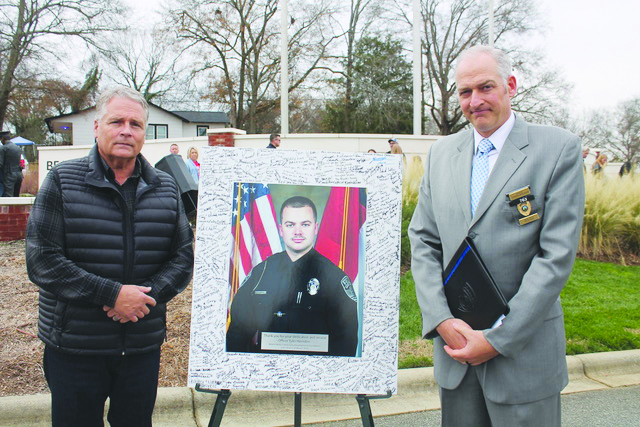 Sunday, December 11, saw the unveiling of two bronze statues at the Law Enforcement Memorial Plaza on the grounds of the Mt. Holly Municipal Complex as well as a ceremony marking the second anniversary of the tragic death of MHPD officer Tyler Herndon in the line of duty which happened two years ago.
A large crowd of citizens attended the emotional event. Members of Herndon's family were also present. Former MHPD chief Don Roper, who was chief when Herndon was killed, also attended.
A number of guest speakers took to the podium to remember Herndon, his devotion to duty, and his sacrifice.
Mt. Holly mayor Bryan Hough recalled the enormous outpouring of support the city and the police department received in the aftermath of Herndon's passing.
"We are blessed to live in a community like Mt. Holly," Hough said. "I remember the blue lights people put on their homes and businesses and how the cards and letters flooded in."
Current MHPD chief Brian Reagan became emotional during his remarks.
"I am so humbled you are all here to remember Tyler," he said. "We will do our best to remember him. The Herndon family is our family."
Guest speaker was Stephen Brackeen, associate pastor of youth and education at Bethel Baptist Church in Shelby. His brother Tim, a Shelby police officer, had lost his life in the line of duty on Sept. 12, 2016.
"Tim and Tyler are of the finest and rarest type of person," he said. "They have a legacy of honesty and integrity. They are true heroes."
Following the speeches, the bronze statues were unveiled. They were sculpted by Carolina Bronze artist Ed Walker. One depicts a police officer comforting a young girl. The other represents a K9 officer and his dog. Near the statues, an eternal flame burns night and day in honor and memory of all first responders who have lost their lives protecting citizens everywhere.
Officer Herndon, 25, lost his life while responding to a breaking and entering at a Mt. Holly car wash. He had been a member of the Mount Holly Police Department just shy of two years. The young officer died two days before his 26th birthday.
Officer Herndon and his family are from Kings Mountain. His parents are Mark and Debbie Phillips Herndon, his paternal grandparents are Ray and Jean Herndon. His sister is Lindsey Herndon of Charlotte.