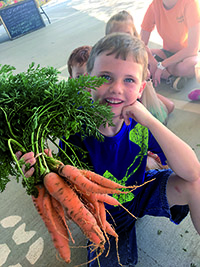 Summertime means lots of fresh fruits and veggies, and there's no place like the Foothills Farmers' Market (FFM) to find a wide variety of our area's freshest vegetables, fruits, meats, baked goods and more.
In celebration of markets like these across the nation, National Farmers' Market Week has been set for August 6-12, 2017. FFM has scheduled numerous activities and special events to coincide with this special week.
"We are going to kick things off a little early on Saturday, August 5th, since the 7th Inning Stretch Festival is that day" says FFM market manager Carol Maxwell, referring to the festival in uptown Shelby that precedes the American Legion World Series. "The first 10 runners from the festival's 5K run that show their runner's bib at the (Uptown Pavilion) market will receive a free $5 token to spend. This is also our 'You Say Tomato, I Say Tomahto Day' at the market. We'll take a close look at the many different varieties of tomatoes our vendors grow."
On Tuesday, August 8, 2017, the Satellite Market will be held at the Cleveland County Public Health Center from 8 a.m.-noon.
"As a reminder, we'd like for folks to know that debit and EBT benefits are accepted at the Satellite Market and Uptown Market locations," says Maxwell. "Last year we processed $3,193 in SNAP/EBT benefits, putting fresh food on the plates of many Cleveland County families. We also have a special program called Market Moola that lets us match up to $5 of EBT benefits with an additional $5 in Moola, allowing low-income shoppers to stretch their market budget."
On Wednesday, August 9, 2017, the Midweek Market at the Uptown Pavilion will be held from 8 a.m.-noon.
Also on this day the "Kids in the Kitchen" cooking class for ages 8-12 will be held at 9:30 a.m. Kids will shop for market ingredients and prepare a meal for themselves at the market. The cost for the program is $10, and the class size is limited to 10. To sign up for the class, email info@foothillsfarmersmarket.com
August 12th, 2017, will be Vendor Appreciation Saturday at the Uptown Market in Shelby.
"We'll be recognizing any 'founding farmers' and 'rookie vendors' at the market that day," says Maxwell. "We will also have music, children's entertainment and cooking demonstrations.
"We are also challenging our customers to enter our Instagram photo contest showcasing a meal they created from FFM ingredients," says Maxwell. Entries should be tagged #foothillsfarmersmarketfoodies. Market customers can vote by liking their favorite meal on social media.
For more information about the Foothills Farmers' Market or the National Farmers' Market Week festivities, visit the website at FoothillsFarmersMarket.com or search for "Foothills Farmers Market" on Facebook.
By April Hoyle Shauf
Special to Community First Media