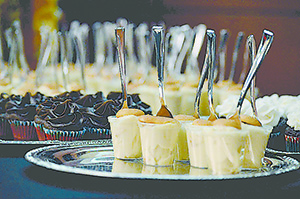 If you are a "foodie" who enjoys tasting delicious locally prepared food or a business owner who would like to showcase your business to area residents, be sure to mark Thursday, June 13, 2019, on your calendar. On that day the Cleveland County Chamber (CCC) is hosting its revamped Taste Cleveland County event, which will now also include CCC's annual Business Showcase.
"In the past, Taste Cleveland County and the Business Showcase were two separate events. Taste was held at the LeGrand Center to kick off the holiday season, and the showcase was held at the Duke Energy Training Facility in June," says Adrian Hamrick, CCC director of marketing and communications. "This year we combined them to gain more exposure for both events. We also moved them to the City of Shelby Pavilion to provide a more fun and festive atmosphere. "
The new combined event will be held on Thursday, June 13, 2019, from 5:30-8:30 p.m. at the City of Shelby Pavilion. Tickets are $20 for adults and $5 for children ages 3-8.
For the "Taste" part of the event, a wide variety of area restaurants will offer their specialty or new dishes for participants to sample. Restaurants scheduled to take part in the event include Allie's Cafe, Chen's, Cleveland Country Club, Fatz Cafe, Hannah's Coffee House, Jimmy John's, Newgrass Brewing, Ni Fen Bistro, Phyllis' Sweet Shop, Pleasant City Wood Fired Grille, Sagebrush, Soon to be Famous Pizza, Sweet House Bakery, Toscanos Bistro, Upscale Soul Food, and Wings, Etc. Other restaurants are also being added daily, according to Hamrick.
While sampling the food, participants will be able to peruse the displays of area businesses and to chat with the business owners while enjoying live music provided by Derek McCoy.
"For local businesses, this is a great opportunity to maximize their company's visibility through displays of their products and services, along with the chance to connect personally with potential customers," says Hamrick. Business Vendors applications are available online at www.ClevelandChamber.org and will be accepted until Thursday, June 6.
To purchase tickets for this year's Taste Cleveland County, visit the chamber website listed above. For more information about the event, search for "Cleveland County Chamber" on Facebook, or email Hamrick at adrian@clevelandchamber.org.
By April Hoyle-Shauf, Special to Community First Media