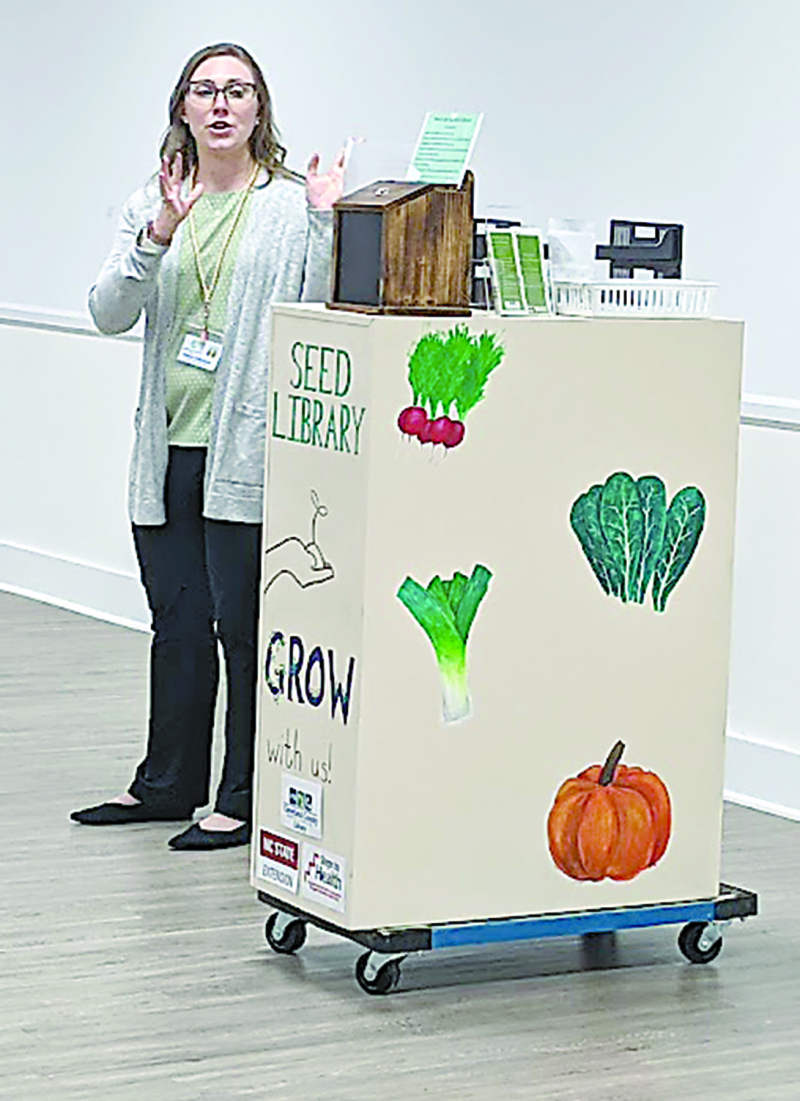 When you head to the library, you usually think about checking out books or maybe doing a little research. But now you can also work on your gardening skills by checking out some seeds!
In partnership with the NC Cooperative Extension, the Extension Master Gardeners Program, and Steps to Health, the Cleveland County Library System (CCLS) is now providing a collection of open-pollinated, heirloom, non-GMO seeds for customers to take home and plant.
So why does the library have seeds?
"The purpose of the Cleveland County Library System's Seed Library is to provide seeds to the community to aid in increasing their intake of fruits and vegetables," says Sarah Edmonds, CCLS adult services manager. "Providing free seeds will make healthy eating an easy choice for local residents."
Edmonds says that education on planting, healthy lifestyles, and nutrition will be offered in conjunction with the Seed Library.
"As an institution of open education, growth and organized collections, the library is an ideal location for a Seed Library," says Edmonds. "This allows for the maintenance of the collection, the preservation of heirloom seeds and the expansion of educational programs focused on health and sustainability."
Launched last November, Edmonds says the program has proved popular with young and old alike.
"So far we've had more than 100 seed packets that have been checked out," she says.
If you are interested in the seed library, but don't know how to get started, the library is offering a program titled "Beginner Gardening on a Budget" at 5 p.m. on Thursday, March 24, 2022.
"In this workshop, an Extension Master Gardener will give you tips and tricks for successful gardening on a budget, and participants will plant a seed and take it home!" says Edmonds.
If you can't wait for the workshop and want to "check out" some seeds, the process is easy, according to Edmonds:
1. Select your seeds.
2. Fill out a checkout card with your info and what seeds you took.
3. Put the card in the box and take any of the informational pamphlets you need.
Seeds will be available for the appropriate season, arranged alphabetically. The library provides a planting calendar and current list of seeds.
For those wishing to contribute seeds to the collection, Edmonds says seed donations are accepted, but they will be made available at the discretion of the library, in consultation with Extension Master Gardeners and the Seed Library Committee.
The CCLS Seed Library is made possible in partnership with North Carolina Cooperative Extension and a grant provided by Steps to Health. The library has also partnered with the Foothills Farmers' Market, Cleveland County Extension and Community Association, and Extension Master Gardeners for this project.
The seed library is located at the Eugenia H. Young Memorial Library located at 104 Howie Drive in Shelby. Hours are Monday-Thursday from
9 a.m. - 7 p.m., Fridays from 10 a.m. -
5 p.m. and Saturday from 10 a.m. -
2 p.m. The library is closed on Sundays.
For more information, contact Edmonds by emailing
sarah.edmonds@clevelandcountync.gov or by calling 704-487-9069 ext. 139.