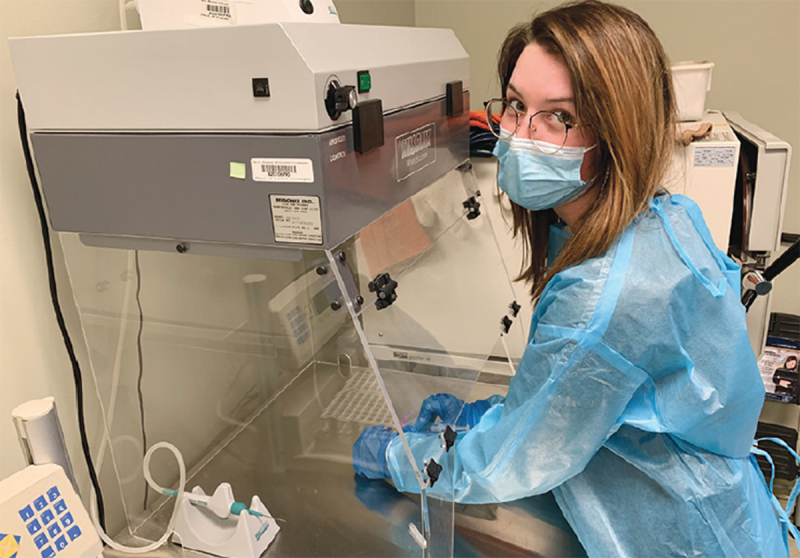 In a recent media release, Paula Vess, Communications and Public Relations Coordinator for Cleveland Community College said their Pharmacy Technician Academy is a great way for students to get into that profession or to further their medical career choices.
Said Ms. Vess, "We began the Pharmacy Technician Academy about five years ago. It is designed to be a shortterm training program for people interested in a career in healthcare."
Now, however, she noted that for the first time, CCC is offering the Academy to high school students.
"When the spring semester began, eight students from high schools across the county were enrolled," she said. "The Academy is available to these high school students through the College's Career Technical Education program in partnership with Cleveland County Schools. Participating students either drive or ride a bus from their high school to CCC each morning and attend the Academy. Then, they return to their high school for afternoon classes."
The College's leadership decided to begin offering the Academy to high school students as another way to broaden students understanding of the career possibilities in healthcare. Someone interested in healthcare does not have to become a doctor or a nurse. There are other essential jobs that play an important role in the health of our community.Pharmacy Technician is one of those roles.
"A lot of high school students don't know exactly what careers they are interested in," said Instructor Mark Woodall. "The advantage of doing the Pharmacy Technician program is that pharmacy touches almost all aspects of healthcare, so this may help guide them. Plus, it will be beneficial in all areas."
Vess noted, "Whether students choose pharmacy technician as their life-long career, or move on to another area of healthcare, this program gives them a good foundation."
During the Academy, students learn about the history and evolution of pharmacy, anatomy, pharmaceutical calculations, pharmacology, and all other facets of that profession. Graduates are also given practical job skills, so they can gain work experience and help support themselves while pursuing other career interests or education.
"The Academy is a great stepping stone to a quick career stage," said Woodall. "In three months, you can become credentialed and if not as a longterm career it can be used to go on to pharmacy school, nursing, medical school and even research and development."
Graduates of the Academy find work in the retail sector, hospitals, the pharmaceutical industry, insurance, home healthcare, immunizations, drug compounding and more. Pay ranges are $14 - $18 per hour in retail pharmacies and $16 - $25 per hour in hospitals. Jobs in specialty areas, which require additional training (IV compounding and chemotherapy), can range $25 - $35 per hour.
The PT Academy is still available for non-high school students as well as CCC offers a day and a night class during the fall, spring and summer semesters.
Burns High School senior Kylie Johnson said, "I am enjoying the class. It really is in-depth. I feel like it is teaching me what I need for the job. We have already had a hands-on experience. I think this class opens up great opportunities for me. I took nursing classes at my high school, so I was already interested in health care when I signed up for this class. I think this class is a really great opportunity to get a head start on a healthcare career."
Brianna Ebert, a senior at Pinnacle Classical Academy, wants to ultimately become a nurse practitioner and work in a hospital. She feels this class can help her accomplish that goal.
"I want to be a Nurse Practitioner, and I thought this class might help me with that. It is a good opportunity for learning about medicine; knowledge I will need to become a Nurse Practitioner. I plan to get certified and work as a pharmacy technician in a hospital as a pharmacy technician. I know that will help me learn about the hospital environment."
Vess said to learn more, visit clevelandcc.edu/program/ pharmacy-technician.