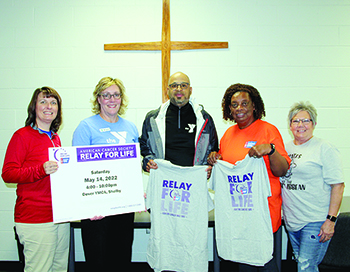 Get ready for the 2022 version of Relay For Life for Cleveland County, which is set to start Saturday, May 14, from 4 to 10 p.m. The location, as it has been for a while now, is the Dover Foundation YMCA, Shelby.
The location, as it has been for a while now, is the Dover Foundation YMCA, Shelby.
Relay For Life is the world's largest volunteer-based fundraising event, which, according to their website, has - for more than 36 years - had "...communities across the world coming together to honor and remember loved ones and take action for lifesaving change."
Recently, four individuals who have worked hard to bring the RFL back again, post-pandemic, to the community met to discuss RFL particulars. They were: Mark Pritchett, Executive Director of the Dover YMCA; Andrea Whitesides, Senior Development Manager of the American Cancer Society; Margaret Litton, Director of the LiveStrong Program at the Dover YMCA, and volunteers and RFL co-chairpersons, Kathy Sloan and Robin Earwood.
Andrea said that there will be fewer events, post-pandemic, but there will be a Walk for Survivors, to which Robin added, "If they want to do so."
Earwood said they have had so many people sign up to walk, post-pandemic, that it has been very inspirational to see.
"And it's because of that," she noted, "that we will kick off our 2022 Relay For Life by celebrating our local cancer survivors."
Mark noted that this is the second year for the Dover YMCA and the American Cancer Society of Charlotte to be in partnership together.
Between the five of them, they have many years working with and for Relay For Life, with Ms. Earwood being in her fourth year as a co-chairperson.
Pritchett, Whitesides, Litton, Sloan, and Earwood all happily add that this year's "...participation level is up from last year."
"Cancer and dealing with it on some level, that's something all of us in the human race share," said Mark. "Relay For Life is one of those unifying things that helps us deal with it in some form or fashion."
Pritchett continued, "We move forward (in our battle with cancer) by being human."
Cancer survivors are encouraged to invite friends and family.
After the Survivor Lap, caregivers are invited to join the survivors, as noted on the ACS website.
Volunteer check in is at the Luminaria Station/Registration Tent and a Silent Auction is from 4 to 8:30 p.m., and food will be available for purchase throughout the entire event.
The Remember - Luminaria Ceremony will take place as the sun sets, noted Andrea, who also mentioned that RFL teams help light pre-made luminaria bags that are dedicated in honor or in memory of a loved one. The Luminaria Ceremony begins at 9 p.m.
The event will be in the Wyke Road parking lot area of Dover YMCA. Campsite setup begins after 12 noon on Saturday.
Campsites must be taken down and cleaned up after the event. No cars will be allowed in the Relay area until after Closing Ceremonies, which are at 10 p.m.
For further information on this Saturday, May 14, event please contact Andrea Whitesides, Senior Development Manager, American Cancer Society, Inc., at (704) 674-3214, or 1-800-227-2345, or check out their website at http://www.cancer.org. You may also call the Dover YMCA at (704) 669-3630.
In closing, both Mr. Pritchett and Mrs. Whitesides noted, "We strive to make this event as safe as possible and will follow local COVID-related guidelines."