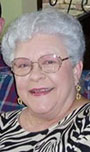 Sandra H Camp, 78, passed away unexpectedly on April 27, 2020.
Sandra was born on August 4, 1941 in Shelby, NC and spent many years there until she moved to Atlanta in 1980.From there, she moved to Washington State to live with her son for 7 years until they all returned to Shelby in 2002. Sandra was an avid movie fan, an animal lover, and a proud member of the Shelby High School class of 1959. She was a strong person who dearly loved her family, and brought joy to many people.
She was preceded in death by her parents, Jim and Vida Henderson. She is survived by her sister Michal, brother in law Neil Wilson, as well as her son Robert, his wife Lori and grandchildren Liam and Caitriona. She leaves behind a loving group of extended family and friends who will miss her dearly. There will be no service at this time.
Cecil M. Burton Funeral Home and Crematory is serving the family.
Guest Registry is available at www.cecilmburtonfuneralhome.com.