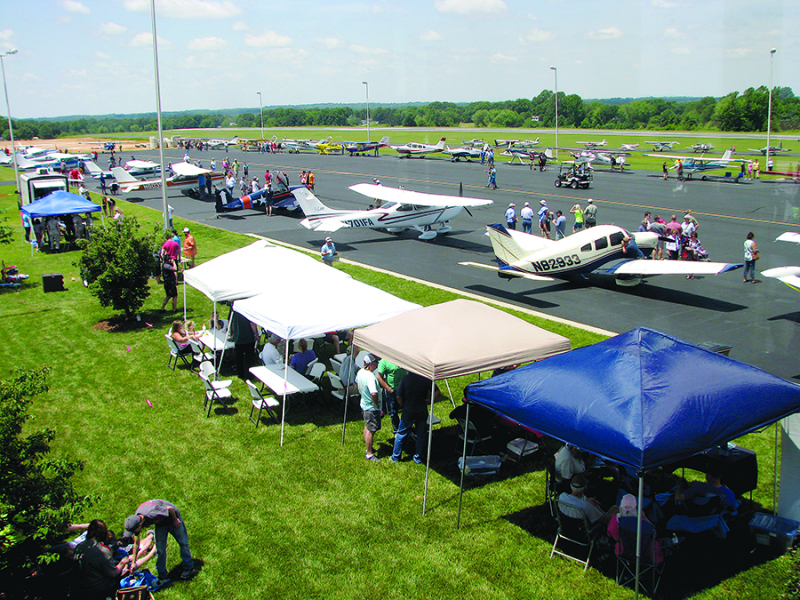 Jack E. Poole, Airport Supervisor for the Shelby-Cleveland County Regional Airport Woodson Field, said he is glad they can once again have another fly-in and open house event. Furthermore, he is looking forward to it. And more good news - this is a FREE event!
The airport is located at 830 College Ave., (Hwy. 150) Shelby.
The last one they had, said Mr. Poole, was back in 2019, then along came COVID and shut everything down.
Now though, they're back and anticipating a good crowd this year for the Saturday, June 11 event, which is slated to start at 10 a.m., and run until 2 p.m. At the 2019 Fly-in and Open House Poole said they had roughly 40 planes fly-in with, noted Mr. Poole, "...an estimated attendance of 1,000 at the last fly-in."
"The City of Shelby took over (the airport) in 2007 and we had the first fly-in then," said Poole.
Poole said the Marine Corps Auxiliary and Compass Aviation will have displays and information on their organizations and missions at the Fly-In and open house. Also, Carolina Gourmet Snowballs will have flavored shaved ice there as well.
"Beard-O Brothers BBQ from Lawndale will be there too," he added.
"At the open house people can come out and see the planes," said Poole, who has his pilot's license and enjoys flying when he gets a chance. "We will have a Robinson R-66 Medivac helicopter there from Atrium Health, along with many other planes and such."
Poole, who is married to wife, Cindy, has two boys, has been with the airport now full-time for 11 years this June.
as it gets us closer to getting back to some form of normalcy."
He continued, "Although we never closed the airport proper during the pandemic, but now we're getting back to seeing city events come back, and that's a good thing."
Another group that will be at the 2022 Fly-In is the Blue Oval Ford Car Club, who will have a display at the event.
There will be no air show activities, said Poole.
For more information, call (704) 487-1161 or visit the City of Shelby's website at https://www.cityofshelby.com/departments/airport-air-services and look for info on the Shelby-Cleveland County
Regional Airport.
At the fly-in and open house, Poole said visitors will be able to tour the airport facilities and see all the aircraft on display as well as take flights, which will be offered by JAARS (Jungle Aviation and Radio Service), which is a Bible translation and missions organization based out of Waxhaw, NC.
"The flight costs are $30 per person for the airplane rides and $35 per person for the helicopter rides," noted Poole, who added they will bring two airplanes and the "helo" to the fly-in for the rides.
Poole said this event is an FAA Safety event, and the FAA will be doing a presentation at the airport. The Civil Air Patrol, one of the airport's long-time organizations that has helped them out in the past, and who has a presence there at the airport, will be there also having a fundraiser for "Wreaths Across America".
Poole said he and his staff of three (part-time mechanics) "...are excited about it (the fly-in)