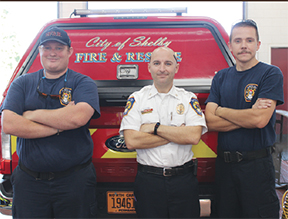 The new President of the North Carolina State Firefighters Association (134th) and Shelby Fire Battalion Chief Quentin "Q" Cash comes from a long line of smoke-eaters, so the call to service runs through his heart.
Said Cash recently, "I have basically been in the fire service my whole life with Dad (Chief Jeff Cash of Cherryville) being Fire Chief for so long."
He and brother Chad grew up at the CFD firehouse, he said, running calls with their Dad. He noted he has 22 years of service under his belt.
Cash is a Cherryville High grad (2001) and got his Bachelor of Science Degree in Political Science, concentrating in Town City and County Management from Appalachian State University in 2005. In 2008 he added an Associate of Applied Science in Fire Protection Technology from Cleveland Community College and a Master of Business in Public Management from Columbia Southern University in 2012.
Quentin said he started at Shelby as a full-time Firefighter in 2005; was promoted to Engineer in late 2007, Captain in 2013, then to Battalion Chief in May 2015.
"As a Battalion Chief I oversee the operations side of C-Platoon. I am over three stations with 16 people on shift (4 Captains, 4 Engineers, 7 Firefighters, and 1 Fire Inspector). I oversee emergency responses for the shift (they work 24-hour shifts), manage day-today operations and staffing. The largest responsibility is the administrative side of the job where I handle scheduling, payroll, evaluations, training, documentation, and reviewing incident reports."
Another responsibility is handling two program areas for their department's national accreditation.
"We received accreditation from the Center for Public Safety Excellence in 2015 and re-accredited in 2019. My main goal though is the safety of the working crew. I want everyone to go home after their shifts."
He continued, "The members of the Shelby Fire and Rescue Department are truly family. That's one thing I still love about being on shift; being able to spend the shift with my crew because I work with a great group of guys that help make my job easy and make me look good. My direct boss is he Assistant Chief of Operations David Vanhoy."
Cash is married to wife, Erin and they are active church members who enjoy traveling, visiting the Caribbean on cruises and hope someday to move there after they retire.
"I also have the goal of going to a game at every major league baseball field," he said, adding, "We try to get a new one every year."
Being service oriented is something that has been ingrained in them since they were kids, Quentin noted, as his parents are heavily involved at First Baptist Church of Cherryville and with Cherryville Little League. Over the years they have been involved in many other aspects of small town life.
"We were always expected to pitch in and help when needed, and it's just the right thing to do. Our family has been fortunate, and we were taught to give back."
Though Quentin has many people who have helped him in his career, his Dad has always been his mentor, showing him what it was to be a leader, to be strong, to have character and integrity, and how to treat people.
"He taught me how it's not about how smart you are or who you know; it is about how hard you work and how much effort you're willing to put into something. He has a servant heart."
He noted also his Mom, Cynthia, has greatly "She exudes love, kindness, and patience, and has always been fully devoted and 100 percent supports everything Dad has been involved in. That's a picture of a marriage that Erin and I are using as an example."
Other examples include retired Shelby Assistant Chief Jake Whisnant; his first Captain at Shelby, Bobby Jones; Shelby Battalion Chief's Chris Poston and Craig Carpenter; uncle, Chris "Pudge" Cash; and Captain's Derrick Mackey, Matt Greenway and Wendell Poole, who all helped raise him, he said, since he literally grew up at the Cherryville FD; and North Carolina State Firefighters' Association Board Executive Director Tim Bradley, Past Presidents Wesley Hutchins, Phil Welch, and Mark McMurry; retired Lenoir Fire Chief Ken Briscoe.
Cash has a special thanks for Shelby Fire Chief William Hunt for allowing him to be involved.
"Serving on the NCSFA Board is a large commitment and a lot of time away from shift. Chief Hunt and Assistant Chief Vanhoy have supported me in every way possible, and I truly appreciate that support. I couldn't be involved without them, and I am thankful they s the importance of having a staff member be involved," said Cash.