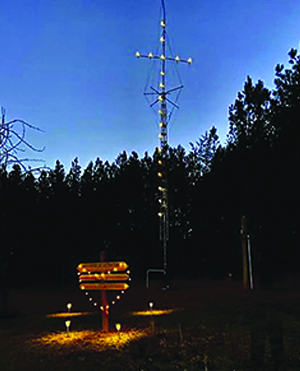 "I have an internet tower 55 ft tall, that we can let it down for maintenance, a ground system, Sky Runner from Asheville, NC.
A few weeks back, I was in the shower and something seemed to tell me to make a lighted Cross on the Internet tower, in memory of friends and a family member that had passed away, I told Carol, my wife, she said do it!
We purchased pathway solar lights, we made adapters out of PVC pipe fittings and tie wraps to secure the Lights to the tower!
We let the tower down and mounted the lights to the tower, about 30 inches apart, the Cross is 45 foot X 10 foot wide!
We have had lots of nice comments from the community, and we love it!
We sent a Cross photo to Irena Colon in Poland, she is from Ukraine but escaped to Poland, she loves it, and we ask her to share the photo, that is to honor the Ukraine people!"