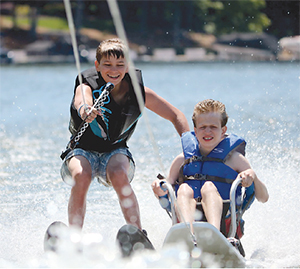 Wake the World offers disabled a chance to ski Kids (and adults) who never thought they would be able to water ski because of a disability will once again have the opportunity to do just that when Wake the World returns to Moss Lake at 10 a.m. on Monday, Aug. 30, 2021.
"Wake the World is a non-profit organization that offers recreational water sports events for disabled or disadvantaged children or adults," says organizer Chuck Hoyle. "The event on Moss Lake will focus on disabled children and adults who have been physically unable to participate in water sports events such as water skiing."
Hoyle is paralyzed from the waist down and is an avid adaptive skier. He first brought Wake the World to Cleveland County in 2018 and 2019, but was prevented from holding it in 2020 due to COVID.
"We are so glad to be able to bring back this event to Cleveland County," says Hoyle. "Adaptive water skiing has been a wonderful addition to my life, and I want to share it with as many folks as we can. We are offering this event for the disabled to try something they may have never tried before."
Wake the World uses adaptive skiing equipment to allow participants to enjoy skiing with support from side skiers.
Volunteers are needed to help as a "side skier" says Hoyle. "We need folks to help the participants into the water and to get up on the skis and to help with logistics on the dock."
Participant spaces are limited, so those interested are asked to call Hoyle at 704-734-1050 as soon as possible. Volunteers can also call this number to sign up to help.
For more information about Wake the World, visit the organization's website at www.WakeTheWorld.org.