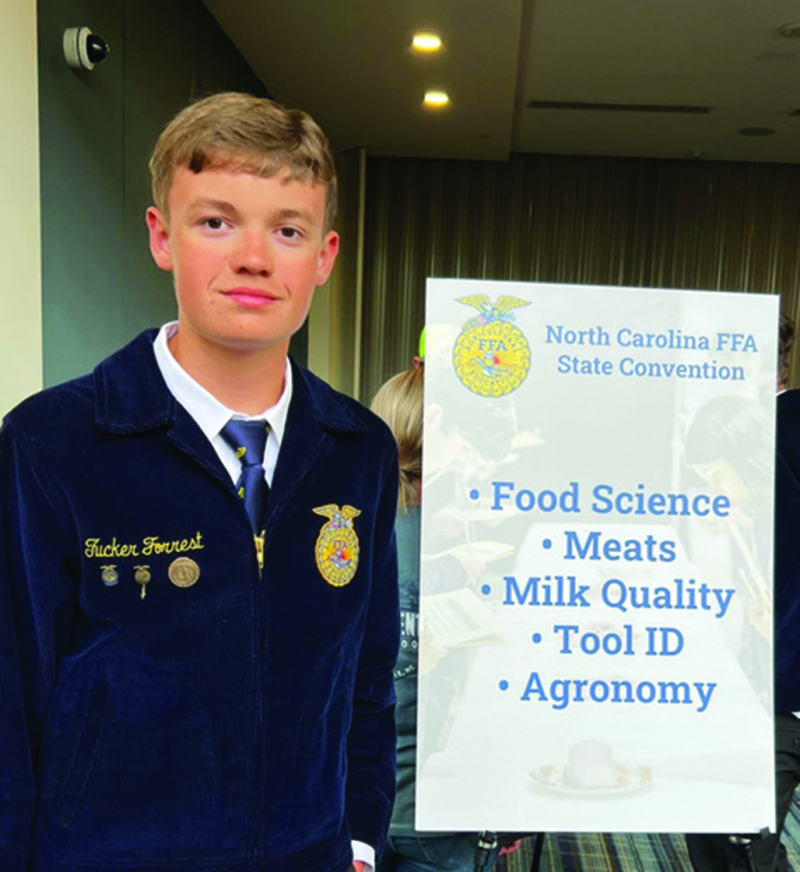 Rising Crest Middle School 8th grader, Tucker Forrest has been into farming since he was, well, since he was very small, according to his mom and dad, Lyndi and Shannon Forrest.
Forrest, 13, had his first time in a tractor seat at age 20 months, his mom noted, and "Tuck" (as he is known) was "...given his father's childhood tractors as a toddler and he fell in love with them, and 'carpet farmed' daily, which sparked his desire to farm."
She continued, "He loves farming because of the challenges it presents. Every harvest, every year, every season will be different and brings new challenges."
Tucker's father, Shannon, noted he is, "...happy that Tucker has discovered his love for farming and knows his career path at such a young age!" His mom and dad added, "We have always said when Tucker was crazy about farming as a toddler, we thought this was a phase, as many little boys go through these, whether it be dinosaurs, sharks, etc. We thought it would pass, but here we are, over a decade later! His passion is agriculture - farm machinery, crops, seeds, soil pH, harvest. We are very proud of him and most proud of his work ethic and love for the Lord. We look forward to seeing what the future holds for him."
Tucker, who "...enjoys being outdoors and would not like a desk job", said recently, "I would like to pursue a career in agriculture as a farm manager or agronomist. I enjoy soil sciences." His long-term goals are to attend college, being presently interested in NC State, and to major in Agronomy (study of soil sciences).
Tucker's most prized possession is his golden retriever named Fendt (named after a tractor). Mom Lyndi noted "...they enjoy farming together, working the garden and taking daily UTV rides."
Tucker has attended the National Farm Machinery Show in Louisville, KY, every year since age 5, she said, adding it is the highlight of his year.
"His love of combines and farming shows in all he does," she said, adding that he constructed a Massey Ferguson (a favorite tractor brand of his) combine out of gingerbread winning third place in the children's class for the National Gingerbread Competition at the Grove Park Inn in Asheville, NC.
He has been taught by his grandfather how to operate the equipment on the farm (combines, tractors, planters, etc.) through the years and now operates them independently, noted his parents. Also, during the most recent planting season he planted approximately 250 acres of soybeans independently, and harvests and plants on a relative's farm (Foster Farms in Mocksville, NC). His favorite activity on the farm is harvesting corn; planting soybeans runs a close second. This true love for farming comes from his grandfather and goes back five generations. He has had a raised-bed garden in the back yard for eight years (since 2014); plants corn,
cucumbers, tomatoes and squash; and plants double corn crops - meaning he will plant corn early and harvest mid-summer and then plant another crop of corn to harvest in the fall.
Tucker's goal is always high yields - in an 8x6 plot, yields on corn are 100-130 ears per harvest. He also spends time assisting in maintenance of equipment as well making repairs in the field.
His parents said for Christmas 2021 he asked for a greenhouse and helped with construction.
Other facts about this industrious young man include: is an active member in the Crest Middle School FFA; the Sentinel for the 2021-2022 school year; will be the Secretary for the 2022- 2023 school year; competed at the regional rally for the FFA in the Spring of 2022 for Forestry - placed 11th out of 53 students (majority were high school students); in June 2022, attended the NC State FFA Convention in Raleigh - competed in Agronomy (was the only middle school student brave enough to compete in this challenging competition); received first place (by default) for the middle school, placing 17th out of 73 high school students (Mom: his goal is to place in the top 5 next year now that he knows what to expect).
Lastly, Tucker was awarded his first FFA Degree - the Discovery Degree - this past school year, said Mrs. Forrest, who added, "FFA degrees are important benchmarks in a member's education and FFA journey."
She continued, "He plans on working his way through the degrees to earn the highly-coveted American FFA Degree, which is the gold standard of FFA achievement. Many compare the FFA Degrees to the rankings with the Boy Scouts of America."