Showing 12 articles from August 25, 2011.
---
Slideshow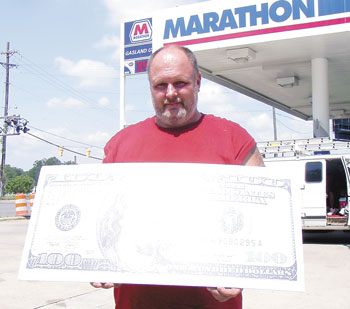 Each week we reward one of our readers with $100. This week we congratulate our "Lucky Reader of the Week", Edward Gaddy of Martinsville,Va.
Obituaries
Barbara Hellen Michael, 74 of Shelby, NC passed away on Friday, August 19, 2011. A Memorial Service was held at Union Baptist Church.
Betty Jean Newman Blanton passed away on Aug. 18, surrounded by her family, after a long and courageous battle with cancer.
Mrs. Beulah Wellmon Smith, 94, of Shelby, NC passed away on Wednesday, August 17, 2011. Services were held at Mt. Sanai Baptist Church. Burial was held in Cleveland Memorial Park.
Bryan Keith McSwain, 46, passed away unexpectedly on Aug 18, 2011 at his home.

On Thursday, August 18th, 2011, at Kings Mountain Hospice House, the sun set for Christine Cooke, 83, of Shelby.
Mrs. Edna Southard, 90, formerly of West Dixon Blvd., died August 15, 2011 at Brian Center of Brevard.
Ms. Lorene Amanda Sellers, 102, of 111 Harrilson Rd., formerly of Mary's Grove Church Rd., passed away on Saturday, August 20, 2011 at Carolina Care Center of Cherryville.
Mrs. Marie Addington, 54, of 524 Lee Dr., went to be with her Lord, Sat., Aug. 20, 2011, at her home.
Mr. Richard Hayne "Dick" Palmer, 85, of 128 Queen Road died
Thursday at Peak Resources in Shelby.
Thomas Otis Parker, 58, of 1755 Ed Craig Lane died Sunday, August 21,
2011 at Peak Resources in Cherryville.
Virgil Oaks, Jr., 51, died on Saturday, August 20th, 2011 at home. He was the son of Virgil Oaks, Sr; step-mother, Diana Oaks; and mother, Patricia "Pat" Porter all of Shelby.
Digital Edition
View Our Digital Edition!
Advertisements