Conan Hendrick does a swan dive off the lower spring board. Behind him, Elijah McSwain does a back flip off the top board. It was more fun in the sun at the Aquatics Center at Shelby City Park. The pool season kicked off on Memorial Day.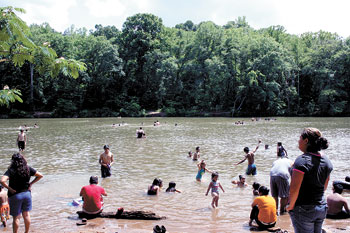 Broad River Greenway was one of the most popular places to swim, cook out, fish, enjoy the playground and have some family fun. The Park Ranger said it was very busy all weekend.
A pinning ceremony was held on May 14, 2012, for students in the phlebotomy program at CCC.
There are so many who pass off Christianity as God doing all the loving. Not true. It's not even for God to do all the forgiving. The Bible tells us in the gospels to "love the Lord thy God with all your heart,
When I first started deer hunting it seemed that the season would never come around. It reminded me how, as a youngster, I would anticipate Christmas. The night before both days I never slept much.
Four Crest High School seniors take to the links to begin their golfing careers.
Friendship United Methodist Church, Fallston
Friendship United Methodist Church invites children to Kingdom Kids, a Wednesday night children's ministry. Bring your child for Bible lessons, music and lots of fun. Every Wednesday night from 6:00 until 7:00 pm.
Parkinson Support Group, Neal Sr. Center
A Parkinson Support Group Meeting will be held the 2nd Tuesday of each month at 1:30 p.m. at the Neal Sr. Center, 100 Harris Dr., Shelby. Sgl. Doug Murph 704-487-8822.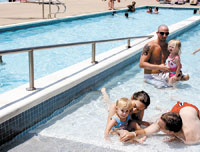 Jayme, 19 months old, enjoys her first time at the Shelby City Park kiddie pool.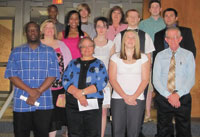 The Cleveland Community College chapter of Gamma Beta Phi National Honor Society held its spring induction ceremony recently in the Mildred H. Keeter Auditorium on the CCC campus.