Latest News
The Cleveland County Arts Council predicts a major cold front will move through on Saturday, January 26. The Big Chill "Casino Night" returns to the Arts Center, 111 S. Washington St., Shelby from 6:30-11:00pm. No matter how cold it is outside, it will be a hot time inside the Arts Center!
The Student Government Association at Cleveland Community College will host a special tribute celebrating the life of Dr. Martin Luther King, Jr., on Tuesday, January 22, at 1:00 pm in the Mildred H. Keeter Auditorium on the CCC campus.
North Shelby School will sponsor a barbecue chicken dinner on Jan. 25 from 4 until 7:30 p.m. at the school. Plates are $10 and include half a chicken with baked beans, slaw, roll and dessert. Diners may eat in, take out or drive through.
Slideshow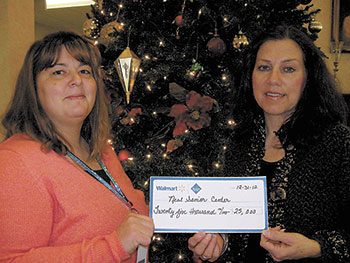 Michelle McCall (left) with the Walmart Foundation State Giving Program presents a $25,000.00 check to Paulette Putnam, Executive Director at the Council on Aging/Neal Senior Center in Shelby for their Meals on Wheels Program.
Opinions
Why write on repentance? In America, some have just about put true individual repentance in a box and shipped it out. This is what the Father of all goodness hates (not first). No Godly sorrow.
"Just have enough faith and God will fill your depleted bank accounts, restore your broken relationships, and repair your debilitating bodies." So says many television evangelists as well as countless other preachers not on the air waves.
Sports
My outdoor activities have been limited as of late. The busyness of life and things that are more important have been moved to the top of my priority list. I know many people think that I must hunt and fish all the time, but that is far from the truth. I actually seem to do it less now than when I was younger.
Donnie Rippy & Greg Carrigan caught these nice stripers while fishing on Lake Norman recently. Out of the seven caught, the pair's biggest fish weighed almost eight pounds!
Church News
Putnam Baptist Church, Shelby
Marriage 911 First Response - Is your marriage in crisis? Do you see the signs that your marriage is headed towards crisis? Are you separated and on the path towards divorce? There is a reason to have hope! For more information call 704-477-1168. Premarital- Enrichment- Crisis/Separated- Stepfamily. www.allinmarriage.com. allinmarriage@gmail.com
Aldersgate United Methodist Church, Shelby
Neighborhood Calendar
Depression and Bipolar Support Alliance, Shelby
DBSA support groups are open to anyone who is diagnosed with a mood disorder, has a family member or friend who is diagnosed, or who thinks they might have depression or bipolar disorder. DBSA support groups are not run by professionals, but instead offer peer-to-peer support. The support group meets every Tuesday from 6:30-8:00pm at The Episcopal Church in Shelby. For questions or information contact 704-232-5147 or laura@dbsafoothills.com.
Music
Church Directory
The details, options and deadlines surrounding Medicare Part D Prescription Drug Plans still confuse many people. If you're like some Medicare beneficiaries out there, you may have kept your PDP simply so you wouldn't have to worry about the six-week annual election period.
Two leaders of the campaign to have Shelby and Cleveland County become the official home of The American Legion World Series will be inducted into the North Carolina American Legion Baseball Hall of Fame.
The Shelby Lions Club recognized the first three of six scholarship candidates at its meeting Tuesday, January 8th.