Latest News
The Cleveland County Family YMCA announced today that Sharon Decker, North Carolina Secretary of Commerce, will give the keynote address at the 18th annual YMCA Community Prayer Breakfast. This year's event will be held Thursday, May 9th at the LeGrand Center on the campus of Cleveland Community College. Tickets are $13 per person or $100 for a table of 8. You can purchase tickets at any YMCA branch.
Slideshow
On a beautiful sunny spring morning, April 13th, five Keep Shelby Beautiful volunteers worked together to pick up litter along West Marion Street from Howie Drive to Highway 74.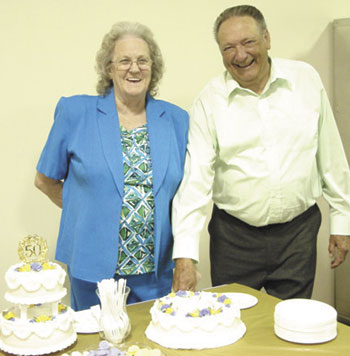 John Thomas "Tommie" Edwards, Jr. and Linda Ann White Edwards celebrated their 50th wedding anniversary March 30, 2013. The two were married March 30, 1963. The celebration of their anniversary was held at the Shelby Missionary Methodist Church Fellowship Hall.
Opinions
The blessing of Holy Ghost Baptism gets a lot of criticism. The big boys say "let's do away with that holy ghost stuff and just say holy spirit", which they have in a lot of their bibles. They teach that they are the same, so let's leave out H.G. They still try to teach a risen Christ. So the result is, you can't tell the church goers from the ones who don't go.
Sports
Corey Greene killed his first turkey, on opening day. The turkey had a 10" beard and 3/4" spurs. Corey is the son of Mike Greene.
Gunnar Weathers took his first turkey this past Friday, April 12, with a 12 gauge shotgun. Gunnar is the 8 year old son of Carl Wayne and Nikki Weathers and he attends Boiling Springs Elementary.
Church News
Putnam Baptist Church, Shelby
Marriage 911 First Response - Is your marriage in crisis? Do you see the signs that your marriage is headed towards crisis? Are you separated and on the path towards divorce? There is a reason to have hope! For more information call 704-477-1168. Premarital- Enrichment- Crisis/Separated- Stepfamily. www.allinmarriage.com. allinmarriage@gmail.com.
The Chapel of Christ, Shelby
Neighborhood Calendar
Piecemakers Quilt Guild
Piecemakers Quilt Guild meets the first Wednesday of each month from 10:00am to 12:00pm at the Lincoln County Senior Center, Lincoln Campus of Gaston College, 511 Aspen Street, Lincolnton, NC, in room 319. We are here to teach and encourage those interested in the art of quilting. Visitors and new members are welcome.
Church Directory
On April 2nd, 2013, Cleveland County Communicators sponsored the ToastMasters' Area 4, International Speech Contest and Table Topics Contest. The competition was held in the conference room at Hospice, Kings Mt, NC at 7:00 PM. Cleveland County Communicators had three members to place in the competition.
National Volunteer Week is April 21 – 27, 2013 and Hospice Cleveland County is honoring its core of dedicated volunteers who provide support, companionship and dignity to members of the community facing serious and life-limiting illness.
The poem What Cancer Cannot Do states, cancer 'cannot cripple love… it cannot kill friendship… It cannot shut out memories.' Bethany Preston has taken these words to heart. Though she admits that she never expected to be fighting cancer or to be under the care of Hospice, Bethany remains focused on hope.