Showing 10 articles from November 13, 2013.
---
Latest News
On Tuesday November 19th friends and families will gather at Landmark Baptist church to kick-off the 20th year celebration of the American Cancer Society Relay For Life. Relay brings together friends, families, businesses, the local hospitals, area schools, faith-based groups and people from all walks of life.
Opinions
The meal known as the Lord's Supper, when all things are prepared as they should be, and handled by the right people
Obituaries

Miss Mildred Ann Parker, age 77, of Self St., died November 9, 2013 at Hospice of Wendover in Shelby.
Thomas "Tommy" Bell, 79, of Shelby, passed away Thursday, Nov. 11, 2013, at Hospice House of Kings Mountain.
Church News
Sharon United Methodist Church, Shelby
Sharon United Methodist Church, 871 College Ave, Shelby, across from the Shelby Airport is holding its Christmas Bazaar on Thursday, November 14, and Friday, November 15, from 5:00pm-8:00pm each evening. There will be Christmas Decorations, Gifts, Baked Goods, and a Hot Dog Supper.
Neighborhood Calendar
Scams: Don't be a victim, Sheriff's deputies to explain dangers
Capt. Joel Shores and Brian Gordon of the Cleveland County Sheriff's Department will present program on scams and frauds Thursday, November 14, at the Neal Senior Center in Shelby.
Church Directory
At the North Carolina State Fair in October, Majestic Blockana brought home the Reserve Supreme Championship, after being shown by Jonathan Presnell in the Open Show and won Grand Champion when shown by Jacob Presnell in the Junior Beef Show.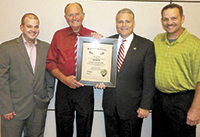 David Blando Clary, a fifty-four year member of the Shelby Rescue Squad was recognized for his outstanding continuous service to the community by receiving the North Carolina Order of the Long Leaf Pine during Cleveland Community College's annual Fire and Rescue College Banquet on Saturday, November 9, at the LeGrand Center.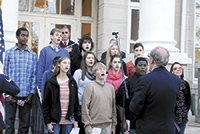 A crowd gathered on the courtsquare in Uptown Shelby to pay tribute to all who have served in our military and all who are still serving. Veterans Day, 2013 was once again, a very special occasion.

Gardner-Webb University's aspiring exercise physiologists and other allied health professionals will be among the first to benefit from a brand new laboratory designed to shift healthcare emphasis from disease management to preventive care.

Digital Edition
View Our Digital Edition!
Advertisements