Latest News
PBR Bull Rider, Shane Proctor and his wife Jessi will compete at Rodeo Polkville on Saturday night, June 21, 2014. Shane is entered in Calf Roping and Bull Riding and Jessi is entered in Barrel Racing.

Cleveland County Schools Preschool is accepting applications for the 2014-2015 school year.
Slideshow
Residents at West Warren Housing enjoyed Mother's Day cookout sponsored by Bayada Nurses.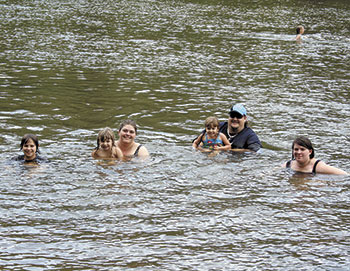 The Whitener family enjoys picnicing and swimming at Broad River Greenway. Pictured: Jacob, Jenna with mom Jennifer, Beverly with dad, Sammy and Pam. The family usually makes a day of it, a great way to cool off!
Opinions
Genesis 1:14- And God said, "Let lights appear in the sky to separate the day from the night. Let them be signs to mark the seasons, days, and years."
Obituaries
Benjamin Michael White, age 38, died June 10, 2014 at Alamance Regional Medical Center.
Clarence David Jay Jr. age 57 died Tuesday June 10, 2014 at his home.
Sports

This time of year I always try catching some pan fish. I really enjoy this slow, unhurried, outdoor activity. It's especially good after managing the deadlines of deer and turkey seasons and an occasional bass tournament.
Church News
Friendship United Methodist Church, Fallston
Friendship United Methodist Church, 111 Friendship Drive, Fallston, NC invites children to Kingdom Kids, a Wednesday night children's ministry. Bring your child for Bible lessons, music and lots of fun. Every Wednesday night from 6:00 until 7:00 pm. For more information contact Bethany Clay at 704-538-9243. Friendship United Methodist Community Meal will be Thursday, June 12 beginning at 5:30 pm. There is no charge for meal - come as you are - all are welcome!
Neighborhood Calendar
South Mountains State Park Events
Saturday, June 14, 11:00am and Saturday, June 18, 2:00pm at the Visitor Center - "Knot Tying 101". Knot tying is a fundamental skill for many tasks. Whether you are a beginning climber, backpacker or just want to learn a few knots.
Church Directory
People in our community would be surprised at the number of families our food pantry serves. As the cost of living increase, their check doesn't increase at the same rate so they don't always have resources to feed their families adequately.
The Shelby VFW recently hosted a fundraiser, including a golf tournament, auction and BBQ dinner.
The Cleveland County Library System announces 2014 Summer Reading Program:
For the seventh year in a row, members of Shelby Masonic Lodge #744 have worked with H & R Block Corporation to help the children served by the Masonic Home for Children at Oxford, NC.