Showing 13 articles from August 27, 2014.
---
Slideshow
Teachers, parents, and students join hands at Jefferson Elementary School during the Cleveland County School's Prayer Walk, held this past Sunday, August 24, at 5 p.m.
Obituaries

Agnes Philbeck Winn, 68, of Old Boiling Springs Rd., died Tues., Aug. 26, 2014, at Cleveland Regional Medical Center.
Lydia Cormier, 71, of Lincolnton, passed away Tuesday, August 26, 2014 at
Lincolnton Rehabilitation Center.
Sports
We are quickly coming to everyone's favorite time of year.
Church News
Temple Baptist Church, Shelby
Temple Baptist Church, 1105 Bridges Street, Shelby, NC, will hold a Gospel Singing Featuring "The Fletchers", Sunday, August 31, 6:00pm. For more information call 704-487-6850. Pastor, Tommy Price.
Neighborhood Calendar
Council on Aging/Neal Senior Center
Council on Aging/Senior Center, 100 T.R. Harris Drive, Shelby, NC, will sponsor the following events:
Church Directory
The 2014 School Supply drive for Cleveland County Schools students is underway, collecting needed items for children.
The work of Dick Grimm is now featured in the Cleveland County Library Gallery through October 7.
Carol, pictured and Gene Meade purchased this tomato plant at Lowe's in Shelby, NC. They have kept it watered and fertilized. The Meades' staked the Tomato plant with PVC pipe. They had to use an 8 ft. ladder to dust the plant!
The three day Clear Mountain View Music Festival, held August 21-23, brought out a crowd of music lovers from all over.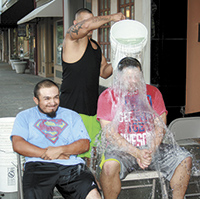 Korner Gym members and friends responded to their ALS Ice Bucket Challenge.
At a special called meeting of the Cleveland County Chamber Board of Directors on Monday, August 25, 2014, William F. (Bill) Watson of Charlotte, NC, was selected to be President of the Chamber.
The process is underway at the Cleveland County Fairgrounds in setting up for this year's 58th Annual Hamfest.
Digital Edition
View Our Digital Edition!
Advertisements