Showing 14 articles from October 26, 2017.
---
Slideshow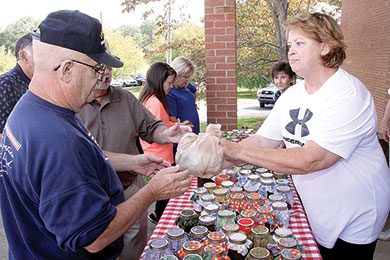 Joyce Woodard sells some apple butter to Ronnie Callahan at the Apple Butter Festival at Aldersgate United Methodist Church on Saturday, October 21st, 2017.

The Leonard McSwain and Dean Jenks Band performs at the Apple Butter Festival at Aldersgate United Methodist Church in Shelby on October 21, 2017.
Obituaries
Dorothy Sue Sanders Richard, 83 of Elam Road, Lawndale passed away Sunday,
October 22, 2017 at Cleveland Pines Nursing Center.
SHELBY: Harriet Morgan Ray, 68, died Friday, Oct. 20, 2017, at her home.
Mr. Jimmy Ray Phillips, 61 of Lattimore, went to be with his Lord and Savior on Friday, October 20, 2017.
Samuel Taylor Freeman, "Sam" age 66 passed away Wednesday October 18, 2017 at his home.
Vember Christine Allred Quinn, age 88, died Friday, October 20, 2017 at Carillon Assisted Living in Shelby.
Church News
Pleasant View Community Church, Forest City
Pleasant View Community Church 129 Michael Drive, Forest City, NC, will hold a Revival, October 22 through Thursday, October 26, 2017. Sunday services 11:00am and 6:00pm; Monday-Thursday, 7:00pm. Mike Blanton will be preaching and "Evidence" group will be singing.
Neighborhood Calendar
Fallston PTA Fall Festival
The Fallston PTA will hold their Fall Festival Saturday, October 28, 2017, 2:00pm - 6:00pm. Admission $5; 2 and under free.
Church Directory
The Cleveland County Chamber and local leaders gathered for a ribbon cutting ceremony at Biz Hub on Thursday, October 12, 2017.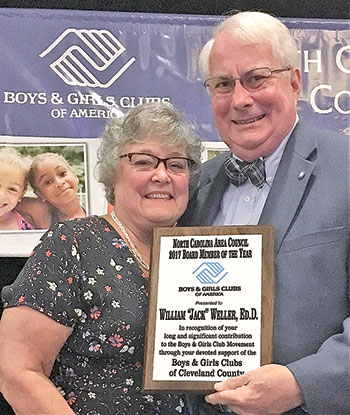 Dr. Jack Weller, Board President of the Boys & Girls Clubs of Cleveland County, received the 2017 Board Member of the Year Award at the North Carolina Area Council Leadership Conference held in Raleigh on September 28-20.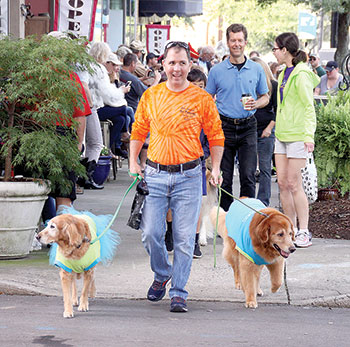 Fred Harrill, owner of RollOver Pet Store located in Uptown Shelby, led the the pet parade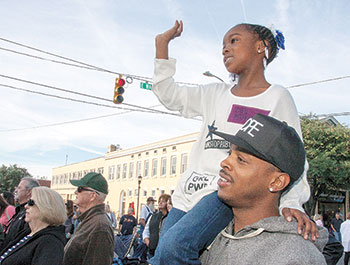 Oundry Petty lifts his daughter Aubrey up for a better advantage to watch the 7th Annual Little Miss Livermush Pageant during the Mush, Music, and Mutts Festival in Uptown Shelby. Photo by Jeff Melton
The Cleveland County Commission for Women crowned Kings Mountain high school senior, Brianna Rochford,
Digital Edition
View Our Digital Edition!
Advertisements