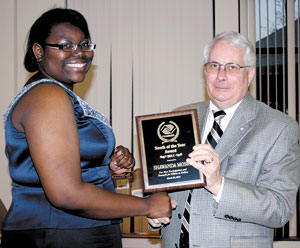 The evening's awards started with the all important "Youth Of The Year Award" . The 2012 award was presented by President, Jack Weller to Shawanda Mosby. Shawanda is graduating from Cleveland Early College High School and is receiving both her High School Diploma and Associates College Degree. She will be attending Western Carolina University and enrolled in a double major.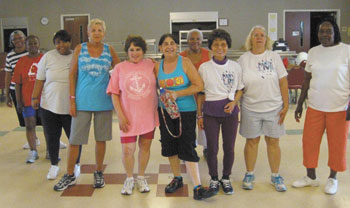 Participants in the Neal Senior Center Zumba Gold Class which meets on Friday's at 11:30am - 12:30pm
Did you ever wonder how you get to know a living God? Are you now wondering what kind of question that is? Did you not know that you are limited as to how? I have traveled to five foreign countries and the distance was never shortened.

Kosa
The retirees from Kosa fished Lake Norman last week and a couple of Lake Wylie boys came thru with the win. Tony Black and Ned Blanton brought in 9.10 and claimed victory.
It was the funniest sight the other day. At daybreak a tom strolled down the path to a small field just in front of me. There he strutted and gobbled and listened for any hen that might be close and interested in watching him flex his muscles as if he were in a pose-down at an Arnold Schwarzenegger Classic.
Friendship UMC, Fallston
Friendship United Methodist Church invites children to Kingdom Kids, a Wednesday night children's ministry. Bring your child for Bible lessons, music and lots of fun. Every Wednesday night from 6:00 until 7:00 pm.
Parkinson Support Group, Neal Sr. Center
A Parkinson Support Group Meeting will be held the 2nd Tuesday of each month at 1:30 p.m. at the Neal Sr. Center, 100 Harris Dr., Shelby. Sgl. Doug Murph 704-487-8822.
Hundreds of kids came out on Sunday, April 1st to join in a big Easter Egg hunt at the Broad River Greenway. Phifer Cabin also was the place where the special guest of the day came to make it even more special.
On Friday evening at the Parish Hall of the Episcopal Church of the Redeemer, members, guests, and honorees gathered for the annual awards banquet of the Boys & Girls Club of Cleveland County.
Sandra's Home is a new transitional home for older youth located beside the Hands on Missions and Christine's Home office building on Hwy 180 North. The special ground breaking ceremonies was held on Saturday, March 31st.