Latest News
KINGS MOUNTAIN, NC –The City of Kings Mountain will host the annual Over the Mountain Triathlon on Saturday, May 19. Part of the North Carolina Triathlon Series (NCTS) and sanctioned by the USA Triathlon, this Olympic length race will be the same length as the triathlon in this summer's Olympic Games in London, England.
Slideshow
The cowgirl flag bearers, get set to enter the Bar-H arena and begin the show with their Native American friend who sang our National Anthem.

Sports

Kosa
The retirees fished Lake Norman last week with David O'Shields and JR Henry bringing in 8.20 and capturing the win. They also had big bass of the day with a 2.30 largemouth.
Another turkey season has all but ended. There's just a few more days left. It has been a really weird season. It seems the action started earlier this year perhaps because of the warmer than normal temperatures.
Music
Church Directory
Once again, Thurston Hamrick presented the Bar-H Championship Rodeo & Country Festival.
This year was extra special, as it marked the events quarter century of entertainment.
Taylor Sweat, a junior at Thomas Jefferson Classical Academy, is the state - wide winner of the North Carolina Celebrate Liberty Essay Contest, sponsored by Lions Clubs. The Shelby Club held the contest in cooperation with Thomas Jefferson Classical Academy.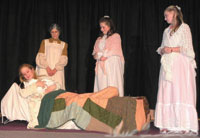 Limited time only! Last chance to see "The Ballad of Nancy Hanks" performed by the Rutherford Community Theatre! This original 2-act play by local playwright, Ludy Wilkie, is based on the local legend that Abe Lincoln was born to Nancy Hanks, a young unmarried woman bound out to the Enloe Family in Bostic, North Carolina.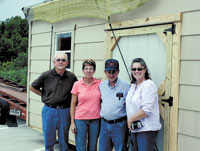 The Cleveland County Beekeepers Association received a grant from RAFI USA (Rural Advancement Financial International) for the construction of a honey extraction facility.
At this year's Merry-Go-Round Festival, held at Shelby City Park, these young ladies were crowned and presented to an adoring public. The Little Miss Merry-Go-Round winners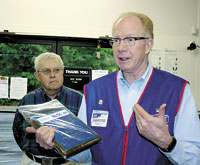 The Habitat for Humanity in Cleveland County ReStore's Fourth Anniversary Celebration was a huge success. Sanford Neal, Manager of the Lowe's Planogram Facility,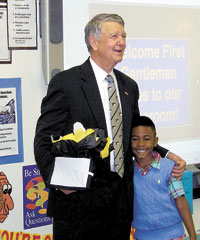 Jy'Juan Eskridge, a first grader in Mrs. Mary Degree's class, presented First Gentleman of North Carolina, Bob Eaves with a gift on behalf of Township Three students and staff.