Latest News
Broadus Heatherly, chaplain of Number Three Ruritan Club, presented a $600 scholarship to Deanna Ramsey, daughter of Don and Melody Ramsey, during Crest High School awards day ceremony.
Slideshow
Whether it was cooling off at the Rotary splash pad, shagging to the tunes, or gorging in the Tom's Family Mart watermelon eating contest, this year's festivities were great. A huge crowd was on hand to enjoy the three bands performing at Patriots Park gazebo and amusement rides.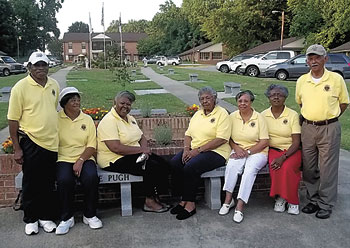 Members of the Lawndale Lions Club attended the Camp Dogwood Summer Camp, June 20th for visual impaired campers. The Club helped serve the Campers during their meal time. Pictured are member's left to right: Henry Griffin, Willen Griffin, Bernice Hector, Lois Schenck, Bessie Hector, Sharon Martin and Robert Hector.
Opinions
Such a simple title, but to the Lord Jesus it really means a lot. As I watched TV the other night, I realized just how many religions people are blasted with every day. What is religion? According to the dictionary, religion is "the belief in and worship of a superhuman controlling power, esp. a personal God or gods."
Obituaries
Effie Lee Daggerhart Humphries, 93, of Ferry Road, Morresboro, passed away on Saturday July 21, 2012 at Spartanburg Regional Hospice House.
Sports
Kosa
The retirees fished Lake Norman last week with Fred Wright and Dean Champion getting the win. The pair had a weight of 9.15. Larry Melton and George Crosswhite had 4.40 and took second place, while third went to Mack Wyatt and Johnny Christainberry with 3.20. Big bass of the day was a 3.50 largemouth brought in by Wright and Champion. This week it is back to Lake Wylie with new fishing hours, 6am til 12 noon.
This week's article is an excerpt from my new book; Devotions from a Hunting, Fishing, Sports Father to His Son. I offer it in light of the Colorado shootings.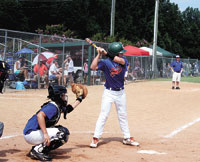 The 2012 Tar Heel Leagues' Coach Pitch and Junior division baseball State Tournaments were held last weekend, July 19 through 22, at Shelby City Park Recreation and Sports Complex. Local favorites,
Church News
Hudson Memorial Baptist Church, Lawndale
Hudson Memorial Baptist Church, 762 Warlick Road, Lawndale, NC will hold their Prayer Time on Monday nights 7:00 pm - 9:00 pm. Anyone with a prayer need is welcome to come. You may also call if you have prayer requests or questions. 704-538-9200
Crossway Baptist Church, Mooresboro
Neighborhood Calendar
Parkinson Support Group, Neal Sr. Center
A Parkinson Support Group Meeting will be held the 2nd Tuesday of each month at 1:30 p.m. at the Neal Sr. Center, 100 Harris Dr., Shelby. Sgl. Doug Murphy 704-487-8822.
Church Directory
Mr. George Stringfellow of Shelby, NC found six yellow and green very unique looking squash in his garden. Mr. Stringfellow said, "I've never seen anything like this all my life." In this years garden, he is growing beans, squash, corn, okra and peas.
Multi-award winning photographer and lecturer Randy McNeilly, of McNeilly Photography, has returned home from a meeting of CameraCraftsmen in Quebec City, Canada.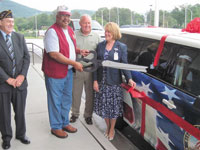 A van, valued at about $32,000, was donated this afternoon to the Charles George VA Medical Center (CGVAMC) by members of the Disabled American Veterans (DAV), Chapter 18, in Shelby, and the Cleveland County, (N.C.) Veterans Council.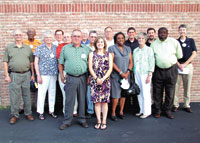 The Exchange Club of Shelby celebrated its 40 year anniversary on July 9th at Western Sizzlin in Shelby.