Slideshow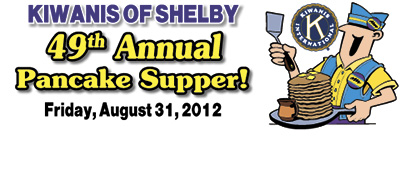 The 49th Annual Pancake Supper Sponsored By The
Shelby Kiwanis Club is
James Vandyke of Kings Mountain dropped by our offices and showed off his prize sweet potato. It weighed over 6 pounds. Not bad for his first year crop of sweet potatoes. He raised this "one of a kind" in his garden. James said it would make a nice big dish of sweet potato pudding!

Opinions
You are recognized by the Spirit you follow. Ask of yourself if you are a Christian. Do you follow the Spirit of the Risen Savior?
Sports

Kosa
The retirees have had two events since last hearing from them. The first was on Lake Norman, where John Black and Roger McNeilly had 9.50 and got the win. Ken Johnson and Fred Wright had 2.80 and were second, with James Osborne and Ray Hembree, coming in third with 2.75. Big bass was a 2.20 largemouth brought in by the team of Black and McNeilly.

I was blessed in my early adult years to work in the mountains. I was on a core drill crew. Our job was to drill a hole deep within the ground in order to find out what strata laid below.
Church News
Mt. Olive Baptist Church, Shelby
Mt. Olive Baptist Church, Shelby, between Hollis and New House, will be having Rev. Loyd Swafford preach each Sunday morning during the month of September.
Neighborhood Calendar
Parkinson Support Group, Neal Sr. Center
A Parkinson Support Group Meeting will be held the 2nd Tuesday of each month at 1:30 p.m. at the Neal Sr. Center, 100 Harris Dr., Shelby. Sgl. Doug Murphy 704-487-8822.
Church Directory
Elizabeth Baptist Church has a fun way to induct kids into their youth group called "Secret Safari". Their gorilla shows up and captures the incoming youth unexpectedly. 12 year old Reynolds was surprised this past Friday on Marion Street, Shelby.
Tim Howard and his brother Rodney live together at Peak Resources in Shelby. They both have Hallervorden-Spatz disease.
WBTV's popular Carolina Camera will soon be featuring a story on 92 year old bandleader Frank Love. The Frank Love Orchestra was established in 1991 under the direction of Shelby native, Frank Love.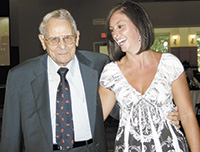 On Saturday, August 25th, members of the LeGrand Family, elected officials and dignitaries attended the preview event that was held in the new $19 million LeGrand Center at Cleveland Community College.
On July 24, 2012, seven members of Burns FFA and six adults made their way to Malawi, Africa. They were prepared to change lives and for their lives to be changed. However, they did not expect for their lives to be changed in such a powerful way.
Thirty-four year old Jackie Brown is in need of a double lung transplant. Jackie was diagnosed with Cystic Fibrosis