Latest News
The drive through event for free rabies vaccination coupled with "Operation Medicine Drop" on Saturday, January 5th turned out to be another success. A clinic will also be held on Saturday, January 12th at Tractor Supply along with a Animal Adoption Day from 10 am to 2 p.m. and on Saturday, March 16th at Crest High School from 8 a.m. to 1 p.m.
Slideshow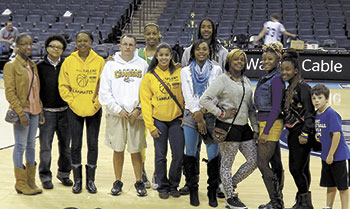 Crest Varsity girls basketball team recently traveled to the North Carolina Community College 5th Annual 3on3 Basketball Tournament, held at the Charlotte Bobcat Arena.
Folks enjoyed playing Bingo on New Year's Eve at the Neal Senior Center. Pictured is Larry Dixon presenting $500.00 to the Neal Senior Center New Year's Bingo Jackpot winner, Mary Ann Trice.
Opinions
"If anyone says, "I love God," yet hates his brother, he is a liar. For anyone who does not love his brother, whom he has seen, cannot love God, whom he has not seen" (1 John 1:20.)
The end of the world...yes and when. Jesus talked about this and gave some answers. There must be a big earthquake because the stones will all fall down. The disciples were listening to Jesus and some questioned him as to when this would take place.
Sports
I used to write with a very narrow mind when it came to the outdoors. I only imagined my little area when it came to things like weather and the activities that one could be involved in. When it came to the winter months I never considered that while one area of the country was reeling things in, another part was dusting things off.
On Saturday, January 5th, the Cleveland County Middle School Basketball Jamboree was held. The boys event was hosted at Crest High School and the girls competition took place at the Shelby Middle School gym.
Neighborhood Calendar
NAMI Rutherford Cleveland
The National Alliance on Mental Illness/Rutherford Cleveland hosts a Mental Illness Family Support Group, always on the 3rd Tuesday of the month, 6:30-8:00pm., Cleveland County Red Cross Building, 1333 Fallston Road, Shelby, NC
Church Directory
Are you a former athlete, sports fan, or a fitness for the fun of it type of person? If so,
Cleveland County Senior Games WANTS and NEEDS you!
You don't want to miss the Council on Aging/Neal Senior Center's Winterfest Dinner and Dance on Friday, January 25, 2013! Tickets are $10.00, which includes the cost of the dance and a Spaghetti Dinner with garden salad, bread, dessert, and beverage. DJ Dick Hamrick will be providing the music. Don't delay, get your ticket today!