Latest News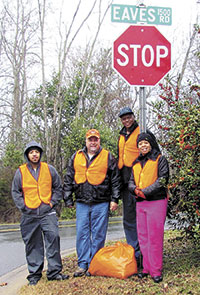 Neither rain nor snow on Saturday, March 2nd, could keep a group of 5 determined volunteers from picking up litter along Eaves Road.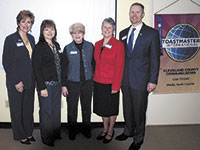 On Thursday, March 7, 2013, Cleveland County Communicators celebrated the 2nd Anniversary of their Toastmasters Club. They inducted the following members for their designated achievement/achievements over the past two years:
Slideshow
EASTER EGG HUNT - 9:30am (by age division) BRING YOUR BASKET - AGES 2-10
EASTER BUNNY & CHIC-FIL-A COW • TRAIN and CAROUSEL RIDES, Face Painting,
We presented $50 to Vanetra Hall when we spotted her getting her Shelby Shopper & Info at Tony's Chip-n-Sip drive thru convenient store in Shelby. Be ready…. YOU could be our next LUCKY READER!
Egg Hunts & Fun 2pm Meet in train parking lot…
850 W. Sumter Street • Shelby, NC
Opinions
Not long ago, I preached a sermon on two apples: one red, and one yellow. I was surprised at the way so many people advanced in knowledge of the bible. Don't get me wrong, our Saviour did it, not Dub.
Many ask this question. A Righteous Holy Bible can give the answer to a lot of questions of the day. Especially to children. When we are born we follow our ancestors by the same name.
It's been said that there is no worse person to be around than a reformed smoker or drinker. After eradicating a full blown addiction, they feel that everyone else should do the same.
Sports
Carolina Bass Challenge
The Carolina Bass Challenge was held at Lake Wylie last week and some awesome catches were brought in. Hunter Hicks and Mike Stephens had 22.53 to pick up the win.
I never can remember ever liking school as a child. Most of my memories are of recess and girls. However, I do recall springtime in grade school. It was during that time that I was allowed to ride my bike to school.
Church News
Putnam Baptist Church, Shelby
Marriage 911 First Response - Is your marriage in crisis? Do you see the signs that your marriage is headed towards crisis? Are you separated and on the path towards divorce? There is a reason to have hope! For more information call 704-477-1168. Premarital- Enrichment- Crisis/Separated- Stepfamily. www.allinmarriage.com. allinmarriage@gmail.com.
Mt. Zion Lutheran Church, Shelby
Neighborhood Calendar
Piecemakers Quilt Guild
Piecemakers Quilt Guild meets the first Wednesday of each month from 10:00am to 12:00pm at the Lincoln County Senior Center, Lincoln Campus of Gaston College, 511 Aspen Street, Lincolnton, NC, in room 319. We are here to teach and encourage those interested in the art of quilting. Visitors and new members are welcome.
Church Directory
The organization was established in 1912 by founder Juliette Gordon Low. Her vision was to grow a girl-centered organization, where girls could experience the outdoors,
Clearwater Paper Plant Manager, Vince Reese, recently received the Emerging Leader Award at the Charlotte Business Journal Advanced Manufacturing Awards presentation in Concord.