Latest News
The Carolina Renaissance Festival, a combination of outdoor theater, circus, arts and crafts fair, jousting tournament and feast, will hold open auditions on Wednesday, June 26th from 6:30 PM to 9:30 PM and Saturday, June 29th from 8:30 AM – 12:00 PM at Wedgewood Church, 4800 Wedgewood Dr, Charlotte, NC 28210.
Slideshow
The Fallston Fun Fest will be Saturday, June 29th at Fallston Elementary School.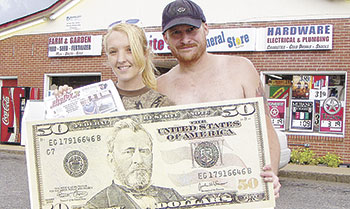 We spotted Desirae and Bobby Ledfordof the Delight Community getting their Shelby Shopper & Info at White's General Store in Casar, NC Be ready…. YOU could be our next LUCKY READER!
Opinions
When we accept Jesus Christ as our Lord, we can have peace with God. Without this peace you can not get into Heaven. Many say a Peace that Passes all understanding. In conversation I said it is God's way or no way.

Our first instinct when we find ourselves wedged between a rock and a hard place is to seek out some spiritual superstars to pray for us. Possibly your pastor, or an elder, or a deacon would be your first choice. Your grandmother may top the list. Either way it would be someone who you believe to be in constant contact with the Almighty.
Sports

Kosa
The retirees fished Lake Norman this past week. Ronnie Humphries picked up the win with a catch of 8.95. David O'Shields and Doug Sparrow had 8.05 and settled in second, they did have big bass of the day as well with a 2.90 largemouth. Fred Wright and Dean Champion brought in 6.40 and claimed fifth. Lake Wylie will be the stop this week.

Unless you are in school, the summer is not considered to be most people's favorite time of year. We usually choose the spring or fall because of the comfortable temperatures and the changes that can be easily seen in the environment around us. In the spring the trees bloom, the plants grow, and the wildlife is preparing for new life.
Church News
Putnam Baptist Church, Shelby
Marriage 911 First Response - Is your marriage in crisis? Do you see the signs that your marriage is headed towards crisis? Are you separated and on the path towards divorce? There is a reason to have hope! For more information call 704-477-1168. Premarital- Enrichment- Crisis/Separated- Stepfamily. www.allinmarriage.com. allinmarriage@gmail.com.
Ryburn Presbyterian Church, Shelby
Neighborhood Calendar
Piecemakers Quilt Guild
Piecemakers Quilt Guild meets the first Wednesday of each month from 10:00am to 12:00pm at the Lincoln County Senior Center, Lincoln Campus of Gaston College, 511 Aspen Street, Lincolnton, NC, in room 319. We are here to teach and encourage those interested in the art of quilting. Visitors and new members are welcome. We also have a new class that meets on the second Thursday of each month from 10:00am to 3:00pm to provide one to one instruction to beginning quilters. Contact Linda at 704-483-2778 for more information on this class.
Church Directory
The Exchange Club of Shelby recognized Ashley Costner as Exchangite of the Year (2012-2013) on Monday, June 10, 2013. Members of the Shelby Exchange Club chose to offer this special tribute to Ashley because she has unselfishly donated her time and efforts on projects and programs throughout the year.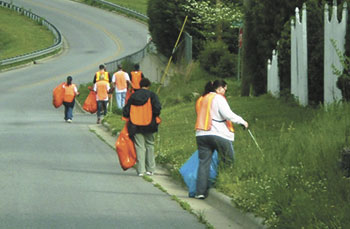 Recently 50 associates from the Wal-Mart Distribution Center (WDC) #6070 volunteered to help keep Shelby beautiful by conducting several litter sweeps throughout the area. They concentrated their efforts on removing litter from some of the major entryways into Shelby. These areas included South Dekalb Street and Highway 226.
Richie Kinmon opened Richie's Body Shop at his original location in November of 1993. After establishing his business he purchased land at 301 W. Warren St. in Shelby and built a state-of-the-art body shop facility.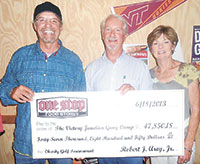 The Victory Junction Gang Camp is for children with debilitating illnesses and is located in Level Cross, N.C. and was founded by Kyle and Patty Petty, in memory of their son Adam.