Showing 12 articles from June 25, 2014.
---
Slideshow
Bingo Blast! will be July 7, 2014 at the Neal Senior Center.
Obituaries

Claude Robert "Bob" Hughes, age 94, resident of Dunnellon, FL passed away June 22, 2014 at the Citrus Hospice House, Lecanto, FL.
Louise Wray Newton, 93, of 305 Hopewell Road, Ellenboro, passed away
Tuesday, June 24, 2014 at home.
Roger Wesley Wright, age 70, of County Line Rd. died Wednesday, June 25, 2014 at Kings Mountain Hospice House.
Ronetta Owensby Lackey took up residence in Heaven with
her Savior, The Lord Jesus Christ on Tuesday, June 24, 2014.
Thomas Robinson, Jr., age 82, longtime resident of Gastonia, died May 16, 2014 at Azalea Health and Rehab Center in Wilmington, NC.
Sports
This time of year deer are craving salt and other minerals. The bucks need this during the time when their antlers are growing and they will literally eat the dirt if it contains traces of these raw materials.
Former Shelby, NC native Barry Wright's "House Car", driven by Don O'Neal, won Friday, June 20th night's $10,000 "Grassy Smith Memorial" National Lucas Late Model Dirt Series main event race at Cherokee Motor Speedway, Gaffney, SC.
Church News
Living Waters Christian Ministries, Shelby
Living Waters Christian Ministries, 505 Blanton St., Shelby NC, started celebrating their 30th Ministerial Anniversary, 21st/10th Pastoral Anniversary of Bishop Designate Carolyn E. Briggs, continuing through June 29. Nightly services, 7:00pm, with the following speakers: Thursday, June 26 - Overseer Dorothy McGuire; and Friday, June 27 - Bishop James Wiley. Saturday June 28 - Bishop Stephen Williams will be the speaker for the anniversary banquet, tickets $20. The celebration will culminate Sunday, June 29 with Lady Norma Borders as the 12 noon speaker and Bishop Nathan J. Anderson as the afternoon speaker. For further information call 980-295-5422.
Neighborhood Calendar
South Mountain Family Camp Summer Day Camp
South Mountain family Camp, 142 Mace Rd., Casar, NC announces Summer Day Camp for students going into 1st through 6th grade. June 23-27, 9:00-3:00. Only $50 for the whole week.
Church Directory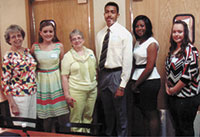 Shown above are the 2014 NC Retired School Personnel (Cleveland County Unit) Scholarship recipients.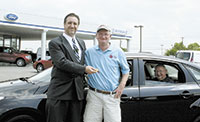 General Manager, Shawn Cox of the new Crossroads Ford-Lincoln in Shelby, presents the keys to this new 2014 Ford Focus to John Cline of Cline's Nursery.
Digital Edition
View Our Digital Edition!
Advertisements