Showing 14 articles from September 24, 2014.
---
Obituaries
Arlene Jones Jackson Shuford, 98, of W. Warren St., died Tues., Sept. 23, 2014, at Cleveland Regional Medical Center. A native of Dillon, SC, she was the daughter of the late John and Lula McDonald Jones.
Gladys Vivian Buckner, 85, of 1434 North Limestone Street, passed away Tuesday, September 23rd, 2014, at Peachtree Centre.
Mrs. Jessie F. Murray, 85, of 6700 Pleasant Oaks Circle, formerly of Waco, passed away on Tuesday, September 23, 2014, at her residence.
Sports
Kosa
The retirees fished Lakes Norman and Wylie since last report. On Lake Norman, JR Garland and Rick Miers brought in 9.2 and got the win over Larry Melton and James Osborne, with 8.8. John Black and Roger McNeely had 6.4 and took third. Big bass was a 2.7 largemouth brought in by Fred Wright.

Have you ever wondered about wonder? I mean have you ever thought why you attribute a beauty or awe to certain things?
Church News
Cornerstone Baptist Church, Mooresboro
Cornerstone Baptist Church, 4357 W. Dixon Blvd., Shelby, NC will be holding a Benefit BBQ and Cruise In for Tony Wayne Holt, Saturday, September 27. Cars arrive 3:00 to 5:00. BBQ and Car Show 5:00 to 8:00. BBQ with fixins, $8 per plate.
Neighborhood Calendar
Burns High School Marching Band Fundraiser
BBQ Chicken Dinner prepared by Doug Fortenberry, Friday, September 26, 5:00pm, at Burns High School Cafeteria. $10 per plate. Proceeds go to Burns High School Marching Dawgs Band. See band members for tickets or call the Burns High Band Room.
Church Directory
Our week #3 Shelby Shopper & Info Football Contest winner was Van Smith of Shelby.
The City of Shelby Solid Waste Department is having the Fall Bulky Item Pick-up the week of October 20th - 23rd, 2014.
Children who have physical and mental disabilities will soon have the opportunity to enjoy playing at the park with the new addition to the Rick Murphrey Children's Park located at the Kings Mountain YMCA.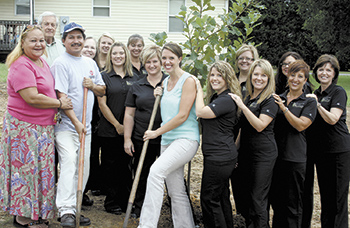 Cornerstone Dental Associates staff members are shown planting one of two White Oak trees in the Ezra Bridges neighborhood of Shelby.
Thirteen year old Brett Monroe Gideon was diagnosed on January 9th of this year with Ewings Sarcoma, a malignant small, round blue cell tumor.
Every Thursday from 7pm to 9pm folks from all over the area bring their instruments and gather around at BUCKSAVER #4 convenient store . It's "where old friends meet and new friends are made".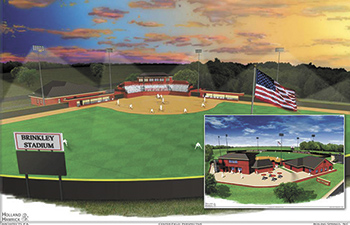 Officials at Gardner-Webb University and representatives from the community hosted a groundbreaking ceremony for the new Brinkley Softball Stadium on Sept. 19 at 10 a.m.
Digital Edition
View Our Digital Edition!
Advertisements