Showing 14 articles from April 17, 2019.
---
Latest News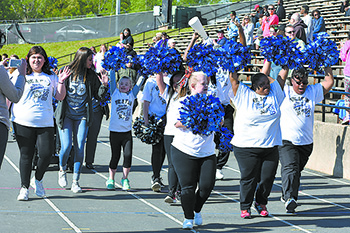 The excitement is building, and the athletes are training - it's almost time for the Olympic Games.
Slideshow
Obituaries
Mr. Billy Wray Williamson departed this life for his eternal home on Wednesday, April 3, 2019, at his residence.

Carlyle "Derrill" Beam, age 86 of Helton Rd. passed away Friday, April 12, 2019 at his residence.
Carrie Lee Willis entered Heaven's gates April 10, 2019. She was 93.
Eddie Turner, 43, of Lawndale, NC, passed away suddenly on April 11, 2019 at Caromont Regional Medical Center in Gastonia, NC.
Frances "Fran" B. Quinn, age 83, died Tuesday, April 12, 2019, at Fair Haven of Forest City.
Geneva W. Yelton, age 76, of Bostic, NC, died Thursday, April 11, 2019 at her residence.
Glyn B. Moton, age 81, of Hazelwood Drive, Forest City, NC, died Thursday, April 11, 2019 at the Charles George VA Medical Center in Asheville.

Jeff Doggett, age 49, of Rutherfordton, NC, died Tuesday, April 9, 2019 at Mission Hospital in Asheville.
Sports

I noticed my actions during a turkey hunt a few mornings ago.
Church News
Announcements
What: Marriage 911 First Response
Neighborhood Calendar
Thurday, April 18, 2019
What: KidSenses Presents: The SubZERO Effect
Church Directory
Hunter Baxter shows an egg he found
Digital Edition
View Our Digital Edition!
Advertisements