Slideshow
After receiving their backpacks, seven sisters are treated to lunch at Wal-Mart.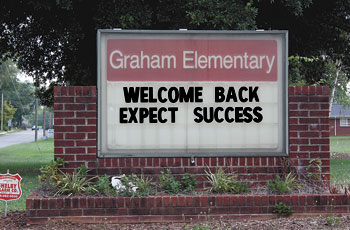 Graham Elementary's sign seems to express the positive attitude of all Cleveland County Schools where everyone should "expect success". Cleveland County students go back to class August 25th.
Sophie Holland is pictured here helping her Papa Jim Holland in his garden.
Opinions
For some time now I have been thinking about the life that Job lived. My Lord revealed something that I had never thought of before.
I've written in the past that we in the Christian community should be careful speculating about the end of time.
Church News
Friendship United Methodist Church, Fallston
Friendship United Methodist Church invites children to Kingdom Kids, a Wednesday night children's ministry.
Neighborhood Calendar
Council On Aging/Neal Senior Center
8/25 – Dine Around - Alston's Barbecue, 620 Grover St., Shelby, NC. Thursday, August 25th, 5:00 p.m. Sponsored by Council on Aging/Senior Center, 100 T.R. Harris Drive, Shelby – You must sign up prior to Tuesday, August 23, 2011. Any questions or need a ride, please contact the Senior Center (704) 482-3488.
Church Directory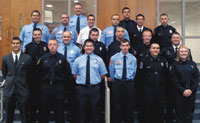 Cleveland Community College held its 2011 Summer Firefighter Academy graduation ceremony on Friday, August 12,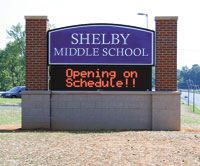 As workmen continued to bring in supplies, lay carpet, add finishing touches with an intense pace,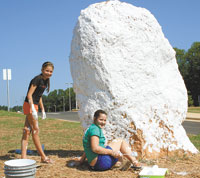 Shelby Middle School seventh grade students, (l to r) Madison Ledbetter and Mikaela Mitchell paint the huge rock at the schools entrance white.
Do you have any inactive cell phones, blackberries, or personal digital assistance devices (PDA's) that you're no longer using?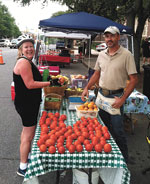 Lisa Jernigan, of Shelby, purchases fresh produce and meat from Jack Causby of Poverty Creek Farm located in Ellenboro, NC
First Grade Orientation At Graham Elementary – (l to r) Teacher Assistant, Tishara Samuel; First Grade Teacher, Brandy Curtis; parent Paul Feaster and students Malijah and Forest, who are new first graders.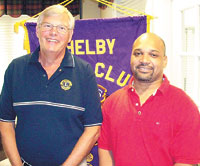 The members of the Shelby Lions Club voted unanimously to appoint Lion Darrell Jeffries to their board of directors during their meeting Tuesday, August 9th.