Showing 13 articles from May 7, 2014.
---
Latest News
The President of the Shelby Civitan Club, Dennis Reno, was excited with the turnout and results of their annual BBQ chicken fundraiser dinner. Everyone agreed that all Dennis' hard work made the event a success.
Slideshow
After 20 years of music and fun in Uptown Shelby, it's time to celebrate!
Five students from the EMT program at Cleveland Community College were recently awarded individual scholarships of $750.
Obituaries
Mr. Clyde J. Spencer, Jr., 76 of 6221 Adele Lane, passed
away on Monday, May 5, 2014 at Carolinas Medical Center in Charlotte.
Peggy Joan Robbins Strickland, 78, died Tuesday, May 6, 2014 surrounded by loved ones.
Timothy "Tim" Leroy Bivins, 57, of 3206 Frank Grigg Drive, Shelby, died
Tuesday, May 6, 2014 at Carolinas Medical Center - Charlotte.
Sports
On Saturday, May 3, 2014, Woodbridge Golf Links hosted the Concerned Bikers Association / ABATE of Cleveland County Golf tournament.
In my area flea markets are more popular than the mall. On any given Saturday or Sunday cars and trucks will line the highways.
Church News
Elizabeth Baptist Church, Shelby
Elizabeth Baptist Church, 301 N. Post Rd., Shelby, NC will have their 2nd Annual Youth Mission Trip Yard Sale, May 10, 6:00am - until, at Elizabeth Baptist Church Gym. All proceeds go to Elizabeth Baptist Church youth for mission trips! Furniture, toys, books, clothes, purses, dishes, decorative items, bikes, holiday items, and lots more! Also Breakfast and Lunch items for sale.
Neighborhood Calendar
Relay for Life Cleveland County, Shelby
Survivors Reception, Elizabeth Baptist Church, May 8, 5:30pm - 7:30pm
Bank Day, May 12-13, 3:00pm til 7:00pm, Fairgrounds/Goforth Hall.
Church Directory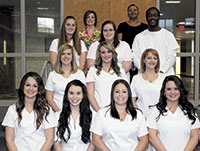 Students in the Cleveland Community College Radiography Program were honored with a pinning ceremony on Thursday, April 24, in the Student Activities Center on the CCC campus.
The Sunset and Bessemer City-Kings Mountain Drive-Ins recently installed new $80,000 digital projectors.
On Saturday, May 3rd, lines of vehicles filled the entrance of Kings Mountain High School during the free rabies vaccination drive through event.
Digital Edition
View Our Digital Edition!
Advertisements