Showing 14 articles from March 8, 2017.
---
Latest News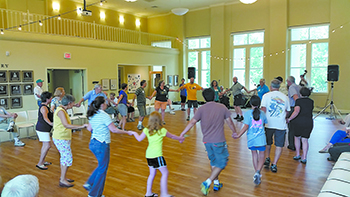 Put on your dancing shoes and join your family and friends for a time of fun, music and square dancing! The Earl Scruggs Center, 103 S. Lafayette St., Shelby, is sponsoring a "barn dance - without the barn" on Saturday, March 18, 2017, from 2-4 p.m.
Slideshow
Obituaries
Ann Nichols Conley, age 79, died Friday, March 3, 2017 at Peak Resources in Shelby.
Mr. Ben Joel Skinner, 85, of 818 Sandy Run Church Road, passed away Saturday, March 4, 2017.
Rev. Mack O'Neal Hyder, 72, of 1585 Maysville Rd. in Shelby, passed away
Saturday March 4, 2017 at home.
Blacksburg -- William Cosme Colon, 69, of 380 John's Crossroad, passed away Friday, March 3rd, 2017, at Spartanburg Regional Medical Center.
Sports

There's a lot of fishing going on right now. I've heard stories from those catching bass, crappie, walleye, stripe, and trout.
Church News
St. Mary Help of Christian Catholic Church, Shelby
St. Mary Help of Christian Church, Shelby, NC, will be holding a Friday fish fry (open to the public).
Neighborhood Calendar
Relay for Life
The Relay for Life Team Captain's Meeting dates are March 14, 2017, April 11, 2017, 6:00pm til 7:00pm, at Hampton Inn & Suites, 2001-B East Dixon Blvd., Shelby, NC. Other events:
Church Directory
The N.C. Forest Service Cleveland County Ranger, Travis Shidal wants to let residents know that there has been a change in burn permit agents in Casar. Previously White's General Store was issuing burn permits, but due to their recent closure a new permit agent has been designated at Mountain View Grocery located 5756 Casar Road.
Faced with decades of accumulation, where could The Salvation Army turn for the musclepower to move a ton or more of old papers, equipment and miscellany from upstairs to down?
The Cleveland County Elementary Honors Chorus performance at Shelby High School's Malcolm-Brown Auditorium will be held Thursday, March 30th at 7 pm.
Digital Edition
View Our Digital Edition!
Advertisements