Showing 14 articles from September 19, 2012.
---
Slideshow
Communities In Schools Dancing with the Stars... Cleveland County Stars (left to right): Dee Hunt and Tyler Williams; Julie and Stan Lowery, Mischia and Greg Taylor; Hannah and Travis Laflin; Juli Moore and Johnny Hutchins; Janet and Doug Eury, Cindy and Ed Fritz; Joy and David Pharr; Brian and Jennenne Hunnell; Greg and Stefanie McIntyre.
Opinions
1 - To uphold and defend the Christian way of life.
Obituaries
Betty A. Moore, 83, of Elgin, IL, passed away on Sunday Morning, September 16, 2012 at her home.

Donna Huff Henderson, 63, 422 McSwain Road, Blacksburg, SC, went home to be with the Lord, September 18, 2019, at Spartanburg Regional Medical Center, Spartanburg, SC.
Elizabeth Delaney Hodge, 31, of 503 West Pine Street, Blacksburg, passed away Monday, September 17th, 2012 at Upstate Carolina Medical Center.
Frankie Bolch Setzer passed away on Saturday, September 15, 2012 at Hospice Cleveland County Wendover.

John Kavann Franklin, 35, of Claremont, died Sunday, September 16, 2012 at Caldwell Memorial Hospital in Lenior.
Mrs. Rhonda Padgett Maxwell, 40, of Jordan Lane, died Mon., Sept. 17, 2012, at Rutherford Regional Health System.

Sports
Within the next couple of weeks, just about every state will have opened their bow season for deer. These weeks are always some of the most exciting times for those of us who are anxious to get back into the tree stand after several months off. It is also the part of the season where many hunters' goal is to add meat to the freezer.
Kosa
Two weeks ago the Kosa retirees fished Lake Norman with John Black and Roger McNeilly getting the win with a catch of 11.85. Dean Champion and Ken Johnson took second with 4.85. Ronnie Humphries was third with 3.75 and that was also big bass of the day.
Church News
Temple Baptist Church, Shelby
Temple Baptist Church, 1105 Bridges Street, Shelby, NC would like to announce their new Pastor, Rev. Tommy Dean Price. The new Pastor and the entire church family would like to invite everyone to take part in our worship service. Sunday School, 10:00 am; Preaching, 11:00 am; Sunday evening, 6:00 pm; and Wednesday night, 7:00 pm.
Neighborhood Calendar
Parkinson Support Group, Neal Sr. Center
A Parkinson Support Group Meeting will be held the 2nd Tuesday of each month at 1:30 p.m. at the Neal Sr. Center, 100 Harris Dr., Shelby. Sgl. Doug Murphy 704-487-8822.
Piecemakers Quilt Guild

Church Directory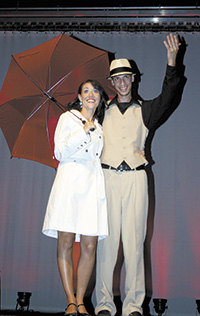 On Saturday, September 15, the annual Communities In Schools Dancing with the Cleveland County Stars fundraiser took place at the Don Gibson Theatre. There was a wall to wall crowd that enjoyed a buffet dinner and taxi dancing prior to the big show.
The Elizabeth Baptist Church Handyman Ministry recently celebrated 10 years of organized ministry in Cleveland County. In 2011, more than 135 people participated in at least one of the 88 projects completed, including 29 wheel chair ramps.
Digital Edition
View Our Digital Edition!
Advertisements