Showing 13 articles from April 20, 2023.
---
Latest News
Shelby minister Dr. Jim Wooten has penned a very personal book he feels will help many people who have been touched in some way or fashion by suicide. He knows about the issue as he has been touched by it; his father was a suicide.
Obituaries

Daniel Christopher Houston, 59, died on March 29, 2023, surrounded by family at his home in Boiling Springs, North Carolina.
Arthur Noel Mauney, Jr. entered eternity on Sunday, March 26, 2023 at the age of 57.
Bobby Gene Greene, 90, of Shelby, passed away on Sunday, March 26, 2023 at Atrium Health - Kings Mountain.
Frances Frady Beason, age 82, of Forest City, passed away Monday, March 27, 2023 at Fair Haven of Forest City.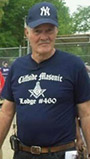 Frank Holtzclaw, age 89, of Cliffside, passed away, Wednesday, March 29, 2023 at his daughter's house.
Hubert Patton "Pat" Ross, 77, of Lawndale, passed away on Wednesday, March 29th, 2023 at his residence.
Mr. James Ray Crowe, 75, passed away Wednesday March 29, 2023 at his residence.
Joanne Scott Gaston Schenck, 89, passed away peacefully on March 25th with her family by her side.
March 29, 2023, at 11:30 am, Mama heard the words" Well done, thou good and faithful servant" as her Lord and Savior welcomed her home. She was also reunited with our Daddy. What a celebration that must have been.
Sarah Caroline "Sis" Blanton Dedmon moved to a higher plane on March 27,2023.
Susanne Elizabeth Markley Dallin, age 82 was born in Philadelphia, Pennsylvania on June 2, 1940.
William David Humphries aka "Mule Man", 73, of 387 Dye Road, passed away on Tuesday, March 28th, 2023, at his residence.
Digital Edition
View Our Digital Edition!
Advertisements