Each week we reward one of our readers with $100. This week we congratulate our " Lucky Reader Of the Week",
Abraham is where our God found good seed for his Son to come thru but not just any son of Abraham.
The 21st chapter of the Gospel of John gives an account of a fishing expedition involving the disciples of Jesus.
Friendship United Methodist Church, Fallston
Friendship United Methodist Church invites children to Kingdom Kids, a Wednesday night children's ministry.
Piecemakers Quilt Guild
"Piecemakers Quilt Guild" meets the first Wednesday of each month from 10AM – 12PM at the Lincoln Co. Senior Center,
Hundreds of folks came out to one of the best old timey, fun filled, farm festivals at Elliott Farms on October 1st and 2nd.
The second annual blessing of the animals was held Sunday, October 2nd, at the Shelby Court Square. Allison Still,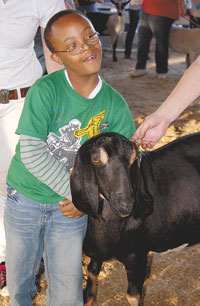 An excited group of North Shelby School students went to the Cleveland County Fair to compete in a special goat show.