Latest News
He was a very unique person, as they say, "one of a kind". She was always "the woman behind the man". Together they worked in tandem and accomplished much. His name is Joe Goforth, his wife's name is Sophia, affectionately called Sophie.
Hospice is about living life to the fullest and this was recently demonstrated in the lives of two of our Hospice families. The first is Jeanette Jones a patient who had on her "Bucket List" to take a Hot Air Balloon ride.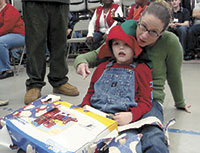 Christmas was celebrated at North Shelby School on Wednesday, December 19 with the 37th annual Civitan Christmas Party. Early in October students are asked to make a list of their gift wishes.
Slideshow
Our week #16 Shelby Shopper & Info Football Contest winner was Robert Coffey of Lenoir, NC. Robert's father-in-law takes him a copy of Shelby Shopper & Info from one of our delivery locations in the Vale community. His ballot was one of six ballots received picking 11 out of 12 games correctly. He won by guessing the closest tie-breaker score of 39 points. Be sure to enter this week's pro football contest and visit all 12 sponsors for some great deals!
Opinions
There are parents that are able to give their children everything money can buy. They take their children on great vacations. Not much sickness shows up, just a happy, wealthy family.
Almost all of the world's religions are recognized by what they stand opposed to. Their list of don'ts if you will. Those pesky taboos dictating what one says, sees, hears and thinks. Christianity, unfortunately, is no different.
Sports
It was my last day of deer hunting for the year. I was pressing the issue as I eased out an old dirt road. Planted pines and thickets made bookends for my path, and I knew that at any time, a buck could peek out.
Neighborhood Calendar
Piecemakers Quilt Guild
Piecemakers Quilt Guild meets the first Wednesday of each month from 10:00am to 12:00pm at the Lincoln County Senior Center, Lincoln Campus of Gaston College, 511 Aspen Street, Lincolnton, NC, in room 319. We are here to teach and encourage those interested in the art of quilting.
Church Directory
Operation Medicine Drop – Dispose of Your Unused, Expired Prescriptions
Take-back event offers public safe, secure way to dispose of their medications.
Sheriff Alan Norman has announced that he is forming a "Safe Schools" task force to revisit current plans and make upgrades accordingly. Sheriff Norrman says "The tragedies that are occurring throughout our nation are unfortunate.
Effective December 21, 2012, Cleveland Regional Medical Center and Kings Mountain Hospital are restricting visitation for children less than 12 years of age.